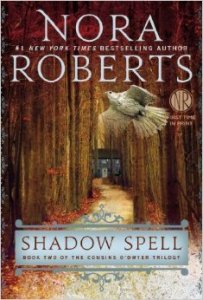 Shadow Spell

by Nora Roberts
Series: Cousins O'Dwyer #2
Published by Simon and Schuster on 2014-03-25
Genres: Paranormal Romance
Pages: 250
Format: eBook
Source: purchased
Goodreads



Also in this series: Dark Witch, Blood Magick
Also by this author: Dark Witch, The Collector, Blood Magick, Night Moves, Whiskey Beach, Jewels of the Sun, Tears of the Moon,

With the legends and lore of Ireland running through his blood, falconer Connor O'Dwyer is proud to call County Mayo home. It's where his sister, Branna, lives and works, where his cousin, Iona, has found true love, and where his childhood friends form a circle that can't be broken…

A circle that is about to be stretched out of shape—by a long-awaited kiss.

Meara Quinn is Branna's best friend, a sister in all but blood. Her and Connor's paths cross almost daily, as Connor takes tourists on hawk walks and Meara guides them on horseback across the lush countryside. She has the eyes of a gypsy and the body of a goddess…things Connor has always taken for granted—until his brush with death propels them into a quick, hot tangle.

Plenty of women have found their way to Connor's bed, but none to his heart until now. Frustratingly, Meara is okay with just the heat, afraid to lose herself—and their friendship—to something more. But soon, Connor will see the full force and fury of what runs in his blood. And he will need his family and friends around him when his past rolls in like the fog, threatening an end to all he loves…
Review
Nora Roberts weaves together magic and love, dark and light, past and present, blood kinship and the loyalty of friends in her enchanting Cousins O'Dwyer trilogy. Shadow Spell continues the story begun in Dark Witch.  The focus this time is on Connor, the middle of "the three" who together are the Dark Witch, and of their friend Meara. Anyone with half an eye could see in Dark Witch that Connor and Meara would end up together, but as in all romance, it's the getting there that makes it interesting.
Connor is more developed in this book; his strengths and his flaws both stand out in sharper relief. On the surface, he's a friendly, cheerful, gregarious man who prefers to focus on the pleasures of today, but underneath he's just as serious and committed as Branna (if less conflicted.) He's also one of Fin's staunchest friends and allies, defending his presence in the circle even in the face of Branna's resistance, yet never losing compassion for what it costs Branna to trust Fin and have him near. I think that endeared him to me more than anything else. Connor is one of those lovely Irish men blessed with both looks and charm, but it's his interactions with Eamon, with and about Fin, and above all with Meara that make my heart melt.  I'm also fascinated by the hawks, and Connor's relationship to them.
In Dark Witch, Meara comes across as strong, fearless, a loyal and lifelong friend to the others in the circle, and accepting of Iona's intrusion into it; we don't see anything of her flaws. She's a singer and a wicked swordswoman; one aspect I can relate to, the other I half-envy. Like Boyle in the last book, Meara is not a witch, but accepts and believes in her friends' powers and insists on playing her part in the circle. But she's full of hidden vulnerabilities and fears, all centered around family and love – particularly romantic love. Those feelings come to the fore in Shadow Spell, along with her attraction to Connor, which leads to some tension between them – and no little danger as well.
The romance in these books is only half the story, of course. In Shadow Spell we see and learn more of the original three, the ancestors of Branna, Connor, and Iona: Brannaugh, Eamon, and Teagan. Cabhan, the black sorcerer, is back after his quasi-defeat and gaining strength again, testing the circle's weaknesses and focusing this time on Eamon, Connor, and Meara. The danger and tension escalate, and there are several close calls to keep things suspenseful. Fin proves his loyalty time and again; Iona's clear sight and unflinching honesty help hold the group together, Branna's skill at both witchcraft and cooking are much in evidence, and only Boyle seems a little on the sidelines. The relationships between all six characters – friendship and love, loyalty and commitment – lie at the foundation of the whole trilogy, and are its and the characters' deepest strength.
I love the way these books blend magic, Irish myth, contemporary rural Irish life, and romance. I can hardly wait for the third book  – the climax of the fight to destroy Cabhan, and the resolution of the strained relationship between Fin and Branna. It's due out Oct. 28 – a post-birthday, pre-Halloween treat I've promised myself!
Reading this book contributed to these challenges:
2014 Witches & Witchcraft Reading Challenge
Related Posts