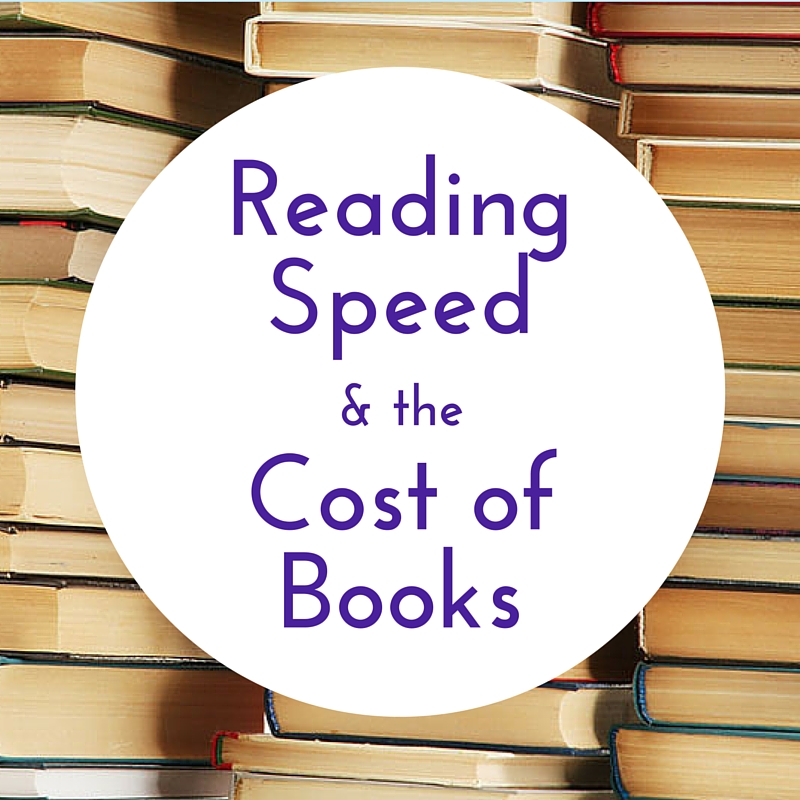 We all know someone who is a speed demon when it comes to reading – someone who can read (and even review!) four or five books or even seven books in a week. Many of us are a bit slower. But here's my question: how much does your reading speed impact what you're willing to pay for a book, or how many books you buy? Put another way, how much entertainment per hour are you actually buying when you pay for a book, compared to a slower or faster reader? And what does that mean for your book-buying habits overall?
I actually first ran into this dilemma with yarn. Acrylic is fairly cheap. Mass-produced wool costs a bit more. And then there's the good stuff — high-quality wool, cashmere, alpaca, merino, silk, much of it hand- dyed or hand-painted. Buying enough wool for a pair of socks costs me about $11 in a chain store, and around $25 if I get something really special from a local yarn shop or festival.
$25 sounds like a lot to spend on a pair of socks that aren't even socks yet! But that's not the point. When I buy sock yarn, I'm not buying socks: I'm buying entertainment. Since it takes me several weeks to knit a pair of socks, the cost-per-entertainment-hour is actually very low. In fact, if it takes me 25 hours to knit the socks, and $25 to buy the yarn, it only costs me a dollar per entertainment-hour. That's a lot cheaper than going to a movie, and it makes me feel so much better about splurging on the beautiful, high-quality hand-dyed yarn.
That rationale is great for justifying buying yarn, but it set off alarms bells in my head when I applied it to books. See, I'm not a fast knitter, but I can whizz through books. And all of a sudden, that cost-per-entertainment-hour ratio didn't look as good.
Let's look at the new Jayne Ann Krentz novel, Secret Sisters. It's due out on December 8, and it will retail for $27. Maybe you can find it discounted for around $20, but maybe you're supporting your local bookstore, so you pay full price. Now say that it will take you 10 hours to read the book. (You like to take your time, savor every detail.) Your cost-per-entertainment-hour is $2.70, or $2.00 if you bought it on sale. Pretty good deal!
On the other hand, maybe you can read that book in 3 hours. (You're a fast reader, and you like to speed through to see what's going to happen next.) In that case, it's going to cost you $7 per entertainment-hour, or $6.67 if you got a discount. Plus, you've still got the other 7 hours to fill with other books.
Over a month or a year of reading, that per-hour difference can really mount up. On a good week, I may read five books. (It's not always that many now that I'm blogging, because writing reviews takes time.) Even if only one of those books is hardcover, and the rest are paperbacks, and even if I buy them at a discount, four paperbacks and a hardcover come to $44 or more. Multiply that by 4 weeks in a month, and that's more than I can afford to spend.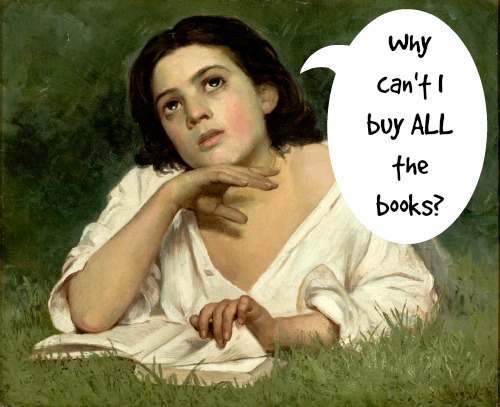 Don't get me wrong–I'm not arguing that books aren't worth that much, or that publishers charge too much, or that the author doesn't deserve to get paid. And I'm definitely not saying that fast readers shouldn't be willing to buy a new hardcover book just because their cost-per-entertainment hour is a little high!
In fact, the cost-per-hour is only one part of the equation when you think about buying a book, and it's  not always the most important part. There are other factors: How badly do you want to read the book? Is this an author whose books you collect? Are you likely to re-read it? Is it part of a series you're collecting, and you want them all to match? The answer to any of those questions may have you saying, "Heck YES! This book is totally worth paying that." (Our family was so excited when Harry Potter and the Deathly Hallows first came out, we bought two copies, so neither Robin nor I had to wait for the other to read it.)
But over the long term, I'll bet most of us dedicated readers are either consciously or unconsciously adjusting what we pay for books over the long run, based in part on how many books we get through in a year or a month. For any given title, $27 may be fine, or too much–just as concert tickets or theme-park tickets may be affordable or too much, depending on how much we value the experience and how much we have to spend. But when it comes to reading–something we do on a regular basis, as opposed to attending a concert or theme park–chances are that if we spend a lot on some titles, we're probably finding ways to save money on others.
[Part II: Strategies for spending less on books]
Related Posts