The ending dates for each challenge are a month earlier than shown. I added an extra month because the UBB Reading Challenge widget doesn't show or count the books until the review is posted, which is sometimes after the challenge officially ends.
The Backlist Reader Challenge 2017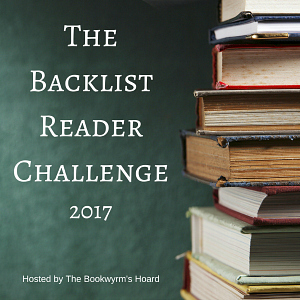 Host: The Bookwyrms Hoard
Progress: 1/24 (4%)

I've read 9 books so far this year that qualify for The Backlist Reader Challenge. (They won't show up in the progress bar until I've reviewed them.) That puts me ahead of my goal of 24 books for the year.
Spin to Knit by Shannon Okey
The Hexed by Heather Graham (Krewe of Hunters #13; I'm not reading them in order.)
The Next Always by Nora Roberts (Inn BoonsBoro #1)
The Last Boyfriend by Nora Roberts (InnBoonsboro #2)
The Perfect Hope by Nora Roberts (InnBoonsboro #3)
Can't Wait by Jennifer Ryan (Montana Men #0.5; novella)
Dance Upon the Air by Nora Roberts (Three Sisters Island #1)
Heaven and Earth by Nora Roberts (Three Sisters Island #2)
Face the Fire by Nora Roberts (Three Sisters Island #3)
Rock Point by Carla Neggers (Sharpe & Donovan #0.5; novella)
COYER Blackout (2016-17)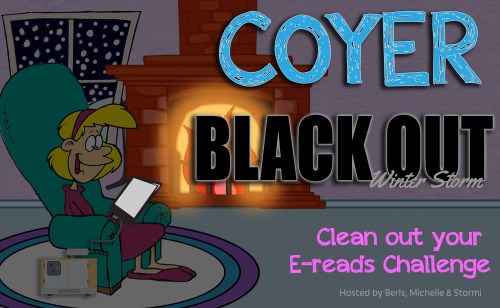 Host: Berls, Michelle, & Stormi
Progress: 5/12 (42%)
17 December, 2016 — 3 April, 2017
In Progress
Since the challenge started, I've read 10 books that count toward COYER Blackout. (They won't show up in the progress bar until I've reviewed them.) Titles I've reviewed are listed above. Below are the titles I haven't reviewed yet:
Sacred Evil by Heather Graham ($0.99)
A Perilous Undertaking by Deanna Raybourn (ARC)
Death and the Gravedigger's Angel by Loretta Ross (ARC)
Someone to Hold by Mary Balogh (ARC)
Breathless by Beverly Jenkins (ARC)
His Cowboy Heart by Jennifer Ryan (ARC)
Someone to Love by Donna Alward (ARC)
Somebody's Baby by Donna Alward (ARC)
Can't Wait by Jennifer Ryan (novella; $0.99)
Rock Point by Carla Neggers (Sharpe & Donovan #0.5; novella)