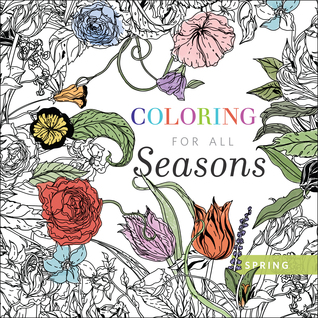 Coloring for All Seasons: Spring Published by River Grove Press on March 1, 2016
Genres: Coloring Books
Pages: 96
Format: eARC
Source: the publisher
Add to Goodreads


"With the coming of spring, I am calm again."
– Gustav Mahler

Spring is that captivating time of year when the days get longer, the weather gets warmer, and plants come alive again. All across the globe, people shed their winter coats and step outside to celebrate this season with festivities and a collective appreciation of nature.

Coloring is a meditative pastime that has been proven to help practitioners focus and relax. By concentrating on specific patterns and hues, coloring can unlock creative potential and help alleviate stress. Each step of the way, from the initial choice of which shades to use to the soothing act of filling in each design, Coloring for All Seasons: Spring is an invitation to unwind.

We have carefully selected forty-six plates of spring flowers, butterflies, and animals to help immerse you fully in the season. Seasoned meditation practitioners and beginners alike will rejoice in Coloring for All Seasons: Spring. So grab your crayons, pencils, or markers and prepare to find a sense of inner calm. Within these pages of detailed patterns and inspiring beauty, we invite you to add some color to your world!
I received a review copy of this book from the publisher.
Review
The coloring book craze has resulted in a lot of coloring books getting published: some good, some bad, and many indifferent. This spring-themed coloring book has several things going for it, particularly if you love flowers.
The images range from modern folk-art and pop-art styles to patterns reminiscent of floral wallpaper or chintz. Many of the pictures are floral patterns that appear larger than the page (in other words, the flowers seem to extend past the edge of the paper), but there are plenty of butterflies and a scattering of birds as well. Surprisingly, there are only two pages with rabbits, and none of nesting birds. One page, a pattern of folk-art cardinals and pinecones, appears misplaced from a winter-themed coloring book.
Some of my favorite pages illustrate quotes about spring: "April hath put a spirit of youth in everything" (Shakespeare) and "Ah, how wonderful is the advent of Spring!" (Longfellow), for instance. But the flowers illustrating Wordsworth's "I wandered lonely as a cloud" aren't the daffodils mentioned in the poem; instead, they appear to be day lilies — an odd choice.
It's hard to tell from a virtual (e-book) review copy, but I believe each page is blank on the back — a real benefit for those who use markers as well as those who like to frame or display their finished pages. Since I was reviewing a digital review copy, I was unable to get any sense of the paper quality. However, the lines appear crisp and clean even when I enlarge the pages. And the variety of styles means you should find at least some pages that appeal to you.
Bottom line: I would really enjoy coloring some of these, but personally, I would tire of the theme before I finished the book.
Related Posts