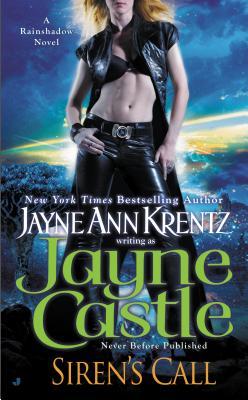 Siren's Call

by Jayne Castle
Series: Harmony #12, Rainshadow #4
Published by Jove on July 28, 2015
Genres: Paranormal romantic suspense
Pages: 323
Format: eBook
Source: purchased
Goodreads


Also in this series:
The Hot Zone
Also by this author:
The Hot Zone
In the alien catacombs of Rainshadow, there are creatures whose compelling songs lure the unwary to their death. That's why Rafe Coppersmith, hired to clear out the catacombs for exploration, needs a music talent. He's knows the perfect one, but she probably doesn't want anything do with him...

Ella Morgan had once fallen hard and fast for Rafe, but then he disappeared for months…and he's not about to tell her why. Ella, too, has secrets that only her dust bunny knows. She's not just a music talent, she's a Siren: a paranormal singer capable of singing men to sleep—or to their deaths.

But once on Rainshadow, Rafe and Ella will learn that surrendering to passion doesn't come without risks—and fighting fire with fire only adds to the flame…
Review
Siren's Call, the latest in Jayne Castle's Harmony series, is fast, formulaic, and fun. Castle's futuristic romantic-suspense novels are like the donuts that Ella's dust bunny Lorelei craves: delicious and addictive. I raced through this one in a few hours.
Rafe Coppersmith and Ella Morgan are a fairly typical Castle hero/heroine pair. Rafe is an alpha male with very high psi talent (off the charts); as usual, he has been wounded in some way, in this case a bad psi-burn. Ella is off the charts too, a Siren with a talent that most people think is just a myth–one which would scare off anyone who found out about it. Her choices seem bleak: spend her life alone, or spend it lying to her spouse, hiding a huge part of who she is. Rafe, of course, figures out her talent and it doesn't scare him a bit.
Castle manages to carry off the insta-love thing because while Rafe is instantly drawn to Ella (and vice versa), their actual relationship takes some time to develop–or rather, while it develops relatively quickly, Ella is sure Rafe will pull away eventually, so she holds herself back emotionally.
The plot holds together better than one or two of the earlier ones in the series, and again it's typical of Castle/Krentz's romantic suspense: The two main characters are brought together unexpectedly; Rafe then needs Ella's talents for a specific and dangerous job; and things keep going from bad to worse. Ella is competent and "rescues" Rafe several times, in various ways, but she also needs rescuing herself occasionally. Throw in a slightly anemic cult, a murder, a secret organization, and several law enforcement groups along with the series' signature alien ruins and psychic weapons, and you've got a fast-paced, suspenseful ride. Yes, it's formulaic, but it's also a lot of fun, although you need to keep that "willing suspension of disbelief" going strong.
As a musician myself, I would have liked more real music in the book (rather than just the psi kind), but it was interesting to see what a Siren could do without being able to sing in real life, as it were. (Krentz introduced the Siren concept in one of her Arcane Society novels; this series is loosely tied to that one as well as to her two Dark Legacy books.)
And of course, there's a new dust bunny to fall in love with. Lorelei is deeply attached to powder-sugared donuts, pizza, and a bridal veil she takes with her everywhere. I find some aspects of Castle's worldbuilding a bit over the top, but I love her dust bunnies. Fluffy, adorable, loyal little predators–I want one!
A few friends from previous books are also mentioned, but the only ones we see more than a glimpse of are Slade and Charlotte. Given that the book takes place on Rainshadow Island, I was quite surprised not to see Sedona and Cyrus, at least–Cyrus is the Guild boss for Rainshadow, after all. (The Guild, for those unfamiliar with the series, is an organization of "ghost hunters", people with the talent to control sheets or globs of paranormal energy. Because their protection is needed in the underground alien ruins, the Guilds are powerful and basically control the ruins.)
Honestly, I don't recommend starting this series partway through, and especially not here. There's too much you need to know about how this world works, that isn't really explained in this book. But it's such a fun series (as long as you don't take it too seriously!) that it's worth going back to the beginning.
Challenges: COYER Scavenger Hunt #73: A book set at least 20 years in the future (or more)
Reading this book contributed to these challenges:
COYER Scavenger Hunt - Summer 2015
Related Posts