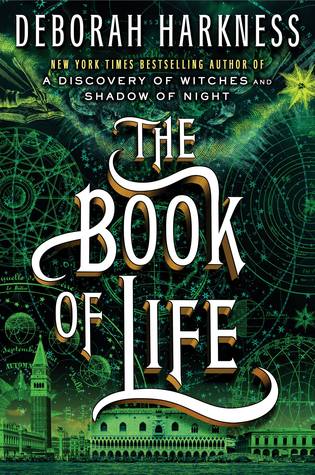 The Book of Life Series: All Souls trilogy #3
on July 15, 2014
Pages: 561
Add to Goodreads



Also in this series: A Discovery of Witches, Shadow of Night

After traveling through time in Shadow of Night, the second book in Deborah Harkness's enchanting series, historian and witch Diana Bishop and vampire scientist Matthew Clairmont return to the present to face new crises and old enemies. At Matthew's ancestral home at Sept-Tours, they reunite with the cast of characters from A Discovery of Witches—with one significant exception. But the real threat to their future has yet to be revealed, and when it is, the search for Ashmole 782 and its missing pages takes on even more urgency. In the trilogy's final volume, Harkness deepens her themes of power and passion, family and caring, past deeds and their present consequences. In ancestral homes and university laboratories, using ancient knowledge and modern science, from the hills of the Auvergne to the palaces of Venice and beyond, the couple at last learn what the witches discovered so many centuries ago.
I received a review copy of this book from purchased, the publisher.
Review
The Book of Life is breathtaking and amazing. It's everything that was incredible about the last two books (excepting, of course, the historical fiction aspect of Shadow of Night), with the added benefit that finally, all the questions are answered, and most of the loose ends tied up. I loved it without reservation. There are so many things I want to share about the book and my reactions to it, but I can't tell you some of the best parts because, well, spoilers.
The first few chapters start off slowly, as Diana deals with her grief over a missing character and she and Matthew adjust to the world to which they've returned. Soon the pace quickens, and the revelations start piling up, one discovery upon another. Plot twists and surprising turns abound, making for a thrilling read; I could hardly turn the pages fast enough in my eagerness to see what came next.
Many old friends and enemies appear, several of them quite unexpectedly, and there are a few terrific new additions to the cast of characters (well, new or expanded; some of them had cameos in the first book.) Diana and Matthew occupy center stage, of course, joined by various members of their expanding family as well as allies. The complexities and challenges of vampire family life, particularly in the de Clermont family, drive some of the plot, as do the politics of the Congregation. The race is still on to find the missing papers, locate Ashmole 782 and discover its secrets, but there are other threats and challenges to meet as well.
Harkness is an articulate, intelligent, and insightful author, and her scholarly training and meticulous research are evident throughout—nowhere more so than in the scenes set at Yale and in Oxford. Genetics plays a big part in the novel, as does historical research. Harkness also excels at bringing her world alive, whether it's the sixteenth-century London of Shadow of Night or the Yale, Oxford, London, New Orleans, and Venice of The Book of Life (to name but a few of the book's many settings.) It's clear that she's been to these places; she provides vivid, evocative details that never overshadow the scene's main focus.
And while Harkness has always had a sense of humor, it is more evident in this novel. Not that the book as a whole is comic; on the contrary, it's suspenseful, touching, exhilarating, heartwarming, and chilling by turns. But the comic moments, when they appear, are funny enough at times to have startled shouts of laughter out of me. (I thought of quoting one, but I don't want to ruin the fun of stumbling across them.) She has even put herself in the book! There's a marvelous but almost throwaway line when Diana is recalling the people who had access to a particular manuscript (not Ashmole 782), and one of them is a writer of popular fiction with an interest in alchemy.
The Book of Life enthralled me from start to finish. It's one of the finest series enders I've ever read: satisfying on every level, yet leaving me wishing for more. I can't wait to see what Deborah Harkness does next. For now, I'll have to settle for reading the whole trilogy again.
Challenges:
Reading this book contributed to these challenges:
COYER Summer Vacation 2014
Witches & Witchcraft Reading Challenge 2014
Related Posts