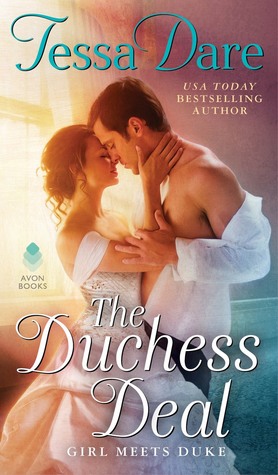 The Duchess Deal Series: Girl Meets Duke #1
on August 22, 2017
Pages: 384
Purchase: Amazon
Add to Goodreads


When girl meets Duke, their marriage breaks all the rules…

Since his return from war, the Duke of Ashbury's to-do list has been short and anything but sweet: brooding, glowering, menacing London ne'er-do-wells by night. Now there's a new item on the list. He needs an heir—which means he needs a wife. When Emma Gladstone, a vicar's daughter turned seamstress, appears in his library wearing a wedding gown, he decides on the spot that she'll do.

His terms are simple:
- They will be husband and wife by night only.
- No lights, no kissing.
- No questions about his battle scars.
- Last, and most importantly… Once she's pregnant with his heir, they need never share a bed again.

But Emma is no pushover. She has a few rules of her own:
- They will have dinner together every evening.
- With conversation.
- And unlimited teasing.
- Last, and most importantly… Once she's seen the man beneath the scars, he can't stop her from falling in love…
I received a review copy of this book from the publisher.
This book contains mature content and may not be suitable for younger readers.
The Duchess Deal may be my favorite Tessa Dare book yet. It's light and funny in all the right places, enough to have me laughing aloud in several scenes. Yet the characters' more serious emotions are never taken lightly, and always ring true.
Emma is every bit as tenacious and intelligent and caring as you could want a heroine to be. I love her determination to make the marriage work despite the fact that it's very much a marriage of convenience for both of them. Her attempts to come up with a pet name for Ash are hysterical, and it becomes something of a game to her to see how inventive and outrageous the names can be: cherub, fawn, sweetmeat. Their conversation, bantering as often as not, often made me chuckle, as did Ash's inventive use of Shakespearean curses.
But it's not all sweetness and light. Both main characters have painful backstories, and have survived through their refusal to give up. Ash's war wounds have left him scarred inside as well as outside, and he's determined to keep everyone, including Emma, at an emotional distance. After all, if you never let anyone get close to you, they can't hurt you. Emma, of course, refuses to acquiesce to this plan. Their relationship soon becomes a contest, with Emma trying to build some kind of marriage despite their agreement, and Ash determined to stay emotionally apart—an effort that is increasingly doomed. (This is a romance novel, after all.) Despite his aloofness, there's no mistaking their growing emotional and physical attraction, made explicit (double meaning intended) in a number of heated scenes which either further the romance or reveal more about the characters.
If you think you're seeing a Beauty-and-the-Beast theme in The Duchess Deal, you're not wrong. It's pretty obvious if you look for it, complete with would-be helpful servants and a figurative witch who cursed the Beast. But the original story serves more as an inspiration and loose framework than a point-by-point outline. Emma's father is far from sympathetic, for example, and he's not the reason Emma agrees to marry Ash. Nor is she imprisoned in the duke's house. The friends she makes in the neighborhood are all delightful "Originals" in their own right, and very supportive of her. I'm hoping at least one or two will find their own happily-ever-after in a future book. I even became rather fond of Emma's cantankerous cat.
The Duchess Deal definitely ranks among the better romances I've read this year, so chalk up another win for Tessa Dare. I can't wait for the next book in the series.
Related Posts