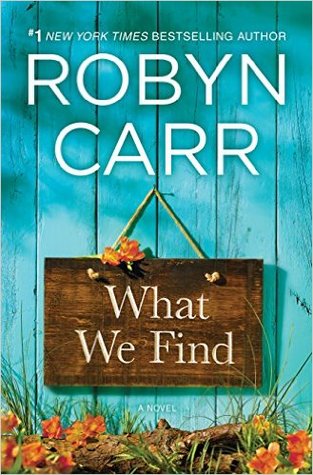 What We Find Series: Sullivan's Crossing #1
on April 5th, 2016
Pages: 352
Add to Goodreads


Also in this series:
Any Day Now
Between the urban bustle of Denver and the high-stress environment of a career in neurosurgery, Maggie Sullivan has hit a wall. When an emergency, high-risk procedure results in the death of a teenager, Maggie finds herself in the middle of a malpractice lawsuit—and experiencing levels of anxiety she's never faced before. It's in this desperate moment that Maggie's boyfriend decides he can't handle her emotional baggage, and she's left alone, exhausted and unsure of what her future holds. One thing is certain, though: she needs to slow down before she burns out completely, and the best place she can think to do that is Sullivan's Crossing.

Named for Maggie's great-grandfather, the land and charming general store at the crossroads of the Colorado and the Continental Divide trails have been passed down through the generations and now belong to Maggie's estranged father, Sully. Though raised by her mother and stepfather after her parents divorced, Maggie has always adored Sully—despite his hands-off approach to fatherhood. When she shows up unannounced in Sullivan's Crossing, he welcomes her with opens arms, and she relishes the opportunity to rebuild their relationship.

But when Sully has a sudden heart attack, Maggie's world is rocked once again. Consumed with his care, she's relieved to find that Cal Jones, a quiet and serious-looking camper, has been taking over many of Sully's responsibilities as he recuperates. Still, Maggie is suspicious of this mysterious man's eagerness to help—until she finds out the true reason for his deliberate isolation.

Though Cal and Maggie each struggle with loss and loneliness, the time they spend together gives Maggie hope for something brighter just on the horizon…if only they can learn to find peace and healing—and perhaps love—with each other.
I received a review copy of this book from the publisher.
Review
I was so excited when I heard that Robyn Carr was starting a new series. The first book fulfills my expectations, and I'm already eager for book two.
To start with, I really like the characters — not only the main characters, Maggie and Cal, but some of the secondary characters as well. Maggie's father, Sully, is stubborn, independent, and outspoken, but his love for his daughter is clear to the reader even through his grumbling. There's some tension between Maggie and Sully, dating back to her childhood, and yet she loves him, and it's Sully's family campground that is "home" to her when she's hurting. Carr handles their relationship well, particularly regarding Maggie's growth vis-a-vis her father. Frankly, I was equally taken with Maggie's stepfather Walter, a celebrated but retired neurosurgeon, who has a much better sense of, and love for, Maggie than she knows, at least at first. Her social-butterfly mother is annoying, but realistically and not entirely unsympathetically so. And Tom Canaday, a single father of four, is (I hope and suspect) a hero awaiting his own book; he's utterly dedicated to his kids, hardworking, and an artist when it comes to remodeling.
But of course, Maggie and Cal are the stars of the show — mostly Maggie at the start, but later on we get some insights into Cal via scenes from his point of view. I've never dealt with the specific stresses Maggie experiences in the beginning of the novel, but I know how that sort of thing can wear you away until you have no emotional energy left. And I know the terror of a child faced with their parent's mortality. So despite our differences — I'm nowhere near as talented as Maggie, nor as driven — I was really able to relate to her, and to what she was going through. She's fiercely loyal to and protective of her dad, which I completely understand. And she has a depth of caring and compassion that must be hard given her profession; a neurosurgeon has to be so controlled and not let emotion get in the way of their job, yet that compassion is also what makes her an excellent doctor. She has a tart tongue and a sense of humor, though the latter doesn't surface much until she relaxes a bit. I loved the way she kept teasing Cal to tell her his full name, calling him things like "Calbert" and "Calhoun."
Cal was harder to get to know, because it's quite a while before we get to see much inside his head, but I liked him immediately for his good-natured humor, his innate honesty and integrity, and his cheerful willingness to help out around the camp. As I found out more about him, it was clear that he's really in the same place Maggie is emotionally: wounded, fleeing his former life, trying to find some peace and healing. His family background was fascinating, and I was impressed with how Carr handled it without condescension, pity, or judgement. She handles an unrelated minor character late in the story in much the same way. (I want to say more, but I can't without spoilers.) I shouldn't have been surprised, because Carr excels at writing about sensitive or difficult topics.
Carr's narrative voice is straightforward, almost conversational; there's enough description to let you imagine the settings and characters vividly, but it never overwhelms the story. There are a few exciting incidents (don't get on the wrong side of Maggie when she's holding a shotgun!), and one or two moving ones as well. And there's plenty of humor, not just in the dialogue but in some of the situations.
I hope we'll see more of Maggie, Cal, and Sully in future books. And I suspect we'll see some of the secondary characters starring in their own books. Tom Canaday is an obvious candidate (fingers crossed!), and depending on how long the series runs, possibly his now-18-year-old son Jackson as well. Whoever it turns out to be, if the next book is as good as this one, I'll be in the series for the long haul.
Related Posts