Katherine over at I Wish I Lived in a Library recently posted a list of books she's been meaning to read, and hasn't. She writes:
So often I find myself saying the same thing when it comes to books – "Oh I've been meaning to read that!" or "I really want to read that but just haven't yet."  That list or books that I really mean to read is so ridiculously long that it some times feels more than a little overwhelming.
And that got me thinking. My own list is more than overwhelming. I've done some variation of Katherine's post for at least four years running:
I went back and looked through all those posts. You want to know how many of those books I've gotten around to reading?
One. I finished one. One book out of around 40.*
Oh, I started eight others.  One was a definite DNF. The remaining seven I fully intended to finish, but had to stop reading for one reason or another, and never got back to them. For three of those, I got at least halfway through, and I was more than halfway interested… but even so, I didn't pick them up again or check them out of the library again. Other books bumped them off the first page of my reading list, and they never made their way back up to the top of the list. I may officially DNF one more of the seven, but the others? I still intend to finish them. Someday. When I can.
And meanwhile, I keep adding books to my want-to-read list, and the list keeps getting longer, and longer…
Sigh.
This didn't happen before I started blogging.  Or maybe it did, and I simply didn't notice because I wasn't keeping lists, except mentally, which made it easier for books to simply fall off the TBR list. But I'm sure noticing it now.
I could blame it on all the ARCs. Don't get me wrong; I love getting ARCs. I love the fun of getting a book before the publication date, and getting to read them for free doesn't hurt, either. But at what cost to my reading wishlist? Only 12 of the 40+ books on those lists were ARCs, including the DNF and the one I finished.**  The rest were books I just…wanted to read. Some I even own already, and they're still sitting on my shelves, unread. Any other ARCs I read during those four years—and there have been quite a few—took time away from the books on these four lists.
I don't know how to find a balance. Every few months, I realize that I'm not reading all the books I want to read.  But I don't know what to do about it. Let's get real—there's no way I'll ever read all the books I want to read. Even if I gave up ARCS and rereading, there are too many. And I'm not giving up rereading; I enjoy it too much. But surely there's a way I could read more of the books I want to read…somehow?
So should I stop requesting ARCs? Well, most of the ARCs I request are books that are on my want-to-read list already, or will go on it whether I am approved for the ARC or not. So no, it probably wouldn't make much difference if I stopped requesting ARCs altogether… though I have been trying to cut back. (A little.)
I think the real problem is that there are far more books I want to read now than there were even 10 years ago. My reading tastes have expanded into additional genres and subgenres over the years. I've been adding new authors to my favorites list faster than  my "old" favorites are dropping off the list.*** And maybe I'm mistaken, but I think there are more books being published now than there were 10 or 15 years ago. And the biggest reason of all is probably that, due to blogs, Netgalley, and Edelweiss, I hear about more of those new books than I used to, even when I worked in a bookstore—which means more of them end up on my want-to-read list.
All of which still leaves me with the problem of what to do about the ever-expanding list of books I really want to read. It's one reason I started The Backlist Reader Challenge, but even doing that isn't whittling down my list fast enough. Aaaagh!
Does anyone have a time turner they could loan me? Because that's starting to look like the only way out of this predicament…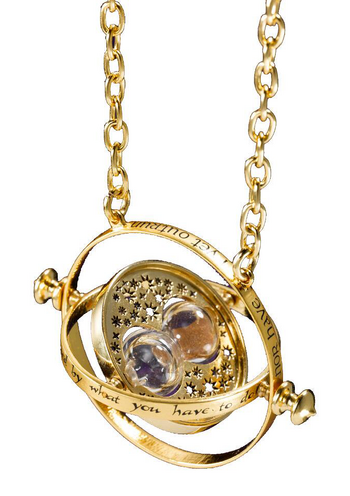 *I'm only counting the first book of those series I want to start reading, since I would only continue the series if I like the first book enough to keep going.
**And yes, that means I'm behind on reading and reviewing my ARCs, but that's another issue. Well, sort of. I'm trying to catch up , I swear.
***"dropping off the list" either because I lose interest, or because the author dies or stops writing new books. Not that I want my favorite authors to die–I'd rather they were still around and still writing. 
Related Posts