Well, I finally broke down and bought an eReader. I've done a lot of research and a lot of thinking about e-books since the Kindle first came out. I still have reservations, particularly about the cost and ephemeral nature of e-books, but I decided it was time to get my feet wet. We're going on a long driving vacation this summer, and I really don't want to haul 20 books around with me.
After a lot of deliberation, I decided to get a Sony Reader. I wanted a reader with an e-Ink screen, because I read a lot, and backlit screens tire my eyes. I also like the fact that the Sony Readers aren't locked into a proprietary format; they can read ePub and PDF as well as Sony's BBeB format. That frees me to purchase e-books at more than one retailer, as well as download free books (public-domain or publisher/author offers.)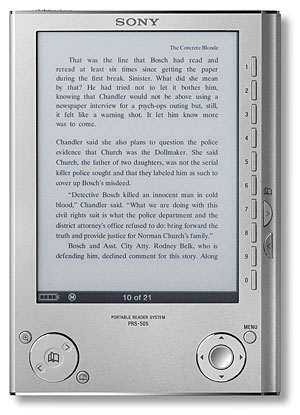 Sony PRS-505
Sony currently has three Readers: the PRS-300 Pocket Edition, with a 5″ screen; the PRS-600 Touch, with (surprise!) a touch screen interface; and the PRS-900 Daily Edition, with a 7″ touch screen and 3G wireless through AT&T. Unfortunately, the model I was most familiar with, the Sony PRS-505, has been discontinued.
Based on tech reviews, I was excited about the Reader Touch, which had just gone on sale for $200. (The price reduction is probably in response to Borders & Kobo's announcement of the Kobo e-reader, a bare-bones reader coming in June for $150.) Then I started reading user reviews on Amazon and elsewhere. A lot of them complained about glare, or that the screen was less crisp and easy to read than the 505 and 300 models. I decided I'd better look at the two screens myself. Walmart's demo models were low on battery, and the 300 wouldn't turn on at all, so I headed to Borders. They had both the 300 and 600 demo units working, and the Touch's glare problem was immediately evident. Yes, it was possible to adjust it to an angle where the glare was less noticeable, but even then, there were shadows and reflections.
The 300 Pocket Edition screen, on the other hand, was beautiful and crisp — but small. By the time I adjusted to a comfortable font, I was getting about a paragraph on the screen at a time, and the lines were half the length of those in a mass-market paperback. I read fast, and turning pages that often (with the inevitable wait for the screen to refresh) would drive me up the wall.
Sony PRS-600 Touch and PRS-300 Pocket Edition
I went home to think about it some more. Lightly-used PRS-505s are selling on eBay for around $180 to $250, depending on condition and accessories. On the one hand, that's a lot for a used Reader when the new Touch is on sale for $200. On the other hand, the price reflects the fact that there is still a demand for the 505, even though it has been discontinued. (Sony, that should be a hint — you need a 6″ reader with a plain e-Ink screen.) I bought a nice, lightly-used 505 for a reasonable price, selling with original box and contents, plus the leather cover with the built-in light wedge, which is expensive but really useful for reading at night. (e-Ink screens aren't backlit, which makes them better and easier for your eyes than a computer-type screen like the iPad — less eyestrain. On the other hand, e-Ink screens do require external light to read.)
While I wait for my "new" Reader to arrive, I've been browsing for free e-books. There are a lot of good books in public domain, from many of the literary classics to children's books. Anything published before 1923 is probably in public domain in the US. Some later works are also public domain, if the copyright was allowed to lapse. And there are a lot of newer books being offered for free. Some authors offer an older work free as a way of introducing themselves to new readers. There are also a lot of self-published e-books, so be wary; I gather the quality can vary widely.
I will post again when I've had a chance to play with my new toy!
Related Posts