News & Notes is a weekly Saturday post featuring book- and publishing-related news, links to interesting articles and opinion pieces, and other cool stuff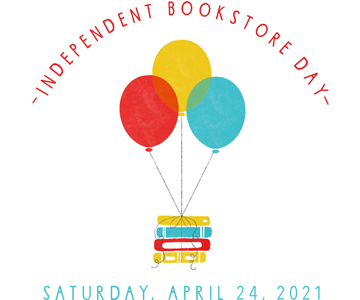 Independent Bookstore Day – April 24
Independent Bookstore Day is next Saturday, Apr. 24, 2021. If you're comfortable going into shops, and your local indie bookstore is open, it would be a great day to visit them; not only would it show your support, but many indie bookstores have events or sales planned. That said, we're still in the middle of a pandemic, many people still aren't fully vaccinated, and you may prefer to avoid stores and lines/queues. If so, or if there are no indie bookshops in your area, there's always Bookshop.org, where you can shop online from any of a growing number of independent bookstores. You can use their "find a bookstore" locator to identify a store you want to support, or simply search for the shop by name. If you don't pick a specific store to shop through, you can still order books from Bookshop.org, and the profits will go into a pool that gets distributed among indie bookstores.
Bookish News
Worth Reading/Viewing
For Writers
Books, Movies, and TV
Lists
Children's Books That Take Place in Museums (NYPL) The two I have read, From the Mixed-Up Files of Mrs. Basil E. Frankweiler and Chasing Vermeer, were both wonderful, so I'm inspired to track down a few of the others and give them a try.
Cool, Fun, and Awesome: The Voynich Manuscript
The Voynich Manuscript has baffled scholars, cryptologists, and rare-book enthusiasts for centuries. Written in a cryptic language no one has yet been able to decipher, and filled with detailed botanical drawings of plants that don't exist and strange images of nude female figures, the manuscript offers plenty of room for speculation and no definitive answers. The vellum on which it is written dates to the 15th century; the writing style appears consistent with that period. But what the book means, and even what it is about, remain a mystery.
The manuscript is currently owned by Yale University's Beinecke Rare Book and Manuscript Library, but if you are intrigued, you can peruse it online, download high-res jpeg files from Yale, or buy your own photographic copy from Amazon.
Related Posts