News & Notes is a weekly Saturday post featuring book- and publishing-related news, links to interesting articles and opinion pieces, giveaways on this and other blogs, and other cool stuff.
Books & Ebooks in the News:
Worth Reading (or watching):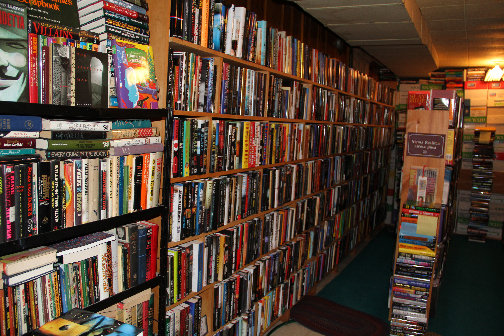 A small portion of the stacks in Lawrence Thomas's basement. (

Photo © Mary Winchester)
Literary Losses:
Oscar Hijuelos, Miami Book Fair International, 1993. CC BY-SA 3.0
Oscar Hijuelos, the Pulitzer Prize-winning novelist and author of The Mambo Kings Play Songs of Love, died last Saturday, Oct. 12, in Manhattan. His works focused on the Cuban immigrant experience and assimilation. His best known work, Mambo Kings, became a 1992 movie starring Antonio Banderas and Armand Assante; the screenplay was later adapted as a stage musical. He wrote a number of other novels, as well as a memoir. Mr. Hijuelos was 62. (New York Times obituary)
Book & Movie Announcements:
Freebies, bargains, and giveaways:
Awesome lists:
I'm always on the lookout for interesting articles, lists, and links for News & Notes, so please let me know if you see (or write!) anything that might be good for this feature. You can leave me a comment or send me an email — my address is on the About/Review Policy/Contact page.
Related Posts