Description:
Candy shop owner Charlotte Caine knows temptation.To reboot her life, shed weight and gain perspective, she's passing up sweet enticements left and right. But willpower doesn't come so easily when hell-raiser Spencer Gregory comes back to Hope's Crossing, bringing with him memories of broken promises and teen angst. A retired pro baseball player on the mend from injury-and a damaging scandal-he's interested in his own brand of reinvention.

Now everything about Spencer's new-and-improved lifestyle, from his mission to build a rehab facility for injured veterans to his clear devotion to his preteen daughter, Peyton, touches Charlotte's heart. Holding on to past hurt is her only protection against falling for him-again. But if she takes the risk, will she find in Spencer a hometown heartbreaker, or the hero she's always wanted?
Review:
Willowleaf Lane is the first book I've read in this series, which is set in the fictional Colorado town of Hope's Crossing. It's a warm, feel-good romance with several "issue" subplots. Hope's Crossing reminds me a little of both Creede and Ouray, Colorado: a small, charming resort town.
I admire Charlotte's determination; she was apparently heavily overweight several years before the novel begins, and has been steadily working on her weight and fitness because she realized she was courting diabetes and poor health. That can't be easy for someone who makes and sells candy for a living! Clearly, she has a strong will. Charlotte is also dedicated to her family, though we only see her father (owner of a diner) and her brother, a war veteran and amputee suffering from depression, alcoholism, and possibly PTSD. She's a good friend, loyal, helpful, and empathetic. No one is without flaws, of course, and Charlotte's main ones are that she lacks self-confidence when it comes to men (understandably, given her past) and she holds on too tightly to past hurts.
Both of those flaws can be blamed at least in part on the hero. Spencer Gregory is a home-town boy who made good as a star baseball player, then self-destructed rather spectacularly when he was implicated in a steroids scandal, followed by the death of his estranged wife. Back in their high school days, Spencer was Charlotte's friend and secret crush. . . the boy who shattered her confidence along with her heart. Now he's back in Hope's Crossing, trying to pick up the pieces of his life and forge some kind of relationship with his sullen daughter Peyton.
The pain Spencer caused Charlotte, which he was unaware of, is at the root of the tensions between them throughout the book, even as they're fighting a strong present-day attraction to each other. Their relationship is complicated by Peyton's problems. Charlotte empathizes with and befriends the girl, and Spencer needs her help in dealing with Peyton. Without giving away any spoilers, I'll just say that Peyton has her own issues, and it was obvious to me what those were well before any of the adults around her caught on.
One of the things I particularly liked about the book was Spencer's growth. It's clear from the start that despite the scandals that brought him down, he's basically a decent man, but he becomes a better one through the course of the story. It's also clear he's hiding something and/or protecting someone, possibly several someones, and that he may not have been as guilty as he appeared, which lends just a hint of mystery to the book. There's even a bit of a showdown toward the end — nothing violent, but satisfying in how it clears up the questions of what really happened.
The secondary characters in Willowleaf Lane are almost universally likeable. Several of them clearly have back stories that were told in earlier books in the series, but I had no trouble starting with this novel instead of one of the earlier ones.
One aspect of Willowleaf Lane did make me uncomfortable: the whole issue of weight and sexual attractiveness. Apparently Charlotte didn't attract guys when she was heavy; now that she's lost the weight, she gets the sexy hero. It's a message that bothers me even though Thayne really tried to avoid tying the two things together. It's clear that Charlotte's concerns about her long-term health were her primary motivation for losing weight and becoming active, and for that, I applaud the author. At least she's not doing it just to get a guy, or to try to fit into unrealistic expectations of female "beauty." But I really wish that Spencer had come back to town in the middle of Charlotte's transformation, and been just as attracted to her — and then supported her in working toward her goals. Having him show up only after she's already thin and fit sends a message that you can't be attractive and sexy and build a great relationship if you're overweight. As someone who struggles with both my weight and my body image, that really bothered me.
That one caveat aside, Willowleaf Lane is a good choice if you're looking for a gentle small-town romance with likeable characters and a community you can return to.
* *
Rating: 3 stars
About the author: RaeAnne Thayne is a former journalist and the award-winning author of over 40 romances. Her first book was published in 1995. Ms. Thayne lives in northern Utah with her family.
Category: contemporary romance
Series: Hope's Crossing #5
Publisher: Harlequin
Release date: 6/25/13
Book source: review copy from Harlequin via NetGalley
Links: Goodreads Amazon Barnes & Noble Kobo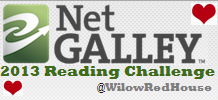 Related Posts