WIP Wednesday (for "Work In Progress") is a meme where we share our current fibery projects. It was started by Nicole @ Book-Wyrm-Knits, who also reviews books at book-wyrm-reads.
Spinning
I spun up the BFL (Blue Faced Leicester) wool that Robin gave me for Christmas. It was hand-painted by Quillin Fiber Arts in her "Salish Sea" colorway, a blend of greens ranging from various shades of teal through clear emerald to a warmer olive. I haven't yet decided whether to ply it as a two-ply, which would give me more yardage, or chain-ply it, which would give me less yardarge but a plumper, more durable yarn. Chain-plying would also preserve the color runs.
Knitting
My Sedona Sunsets poncho, which I started back in April, is nearly finished. I want to add one more repeat of the lace pattern. After that, I need to block it to open up the lace, then fold and seam it to turn it into an asymmetrical poncho. The pattern is the Manzanita Poncho by SY Designs (available on Ravelry only, unfortunately; linked below, with a warning.) The yarn is Canyon from Mary Gavan Yarns, a cotton-rayon blend with no stretch but a lovely sheen, hand-dyed in the colorway Mary calls "Sedona Sunset." It really does have all the colors of sunsets on the red rocks of Sedona, Arizona, where my husband and I spent our 25th anniversary. (The colors are slightly blued and subdued in the first two photos, but accurate in the third—at least on my display screen.)
* * * * *
I finished one sock for my #Socktober knitting; all that's left is to bind off the toe using Kitchener stitch. I'll probably start sock #2 tomorrow night. The yarn is Opal Schafpate by Zwerger Garn; the pattern is the 8-stitches-per-inch (toe-down) version from Ann Budd's Getting Started Knitting Socks. I went with a plain-vanilla 3×1 rib for the leg and the top of the foot, with a 1×1 ribbed cuff at the top. I'm calling the socks "Denim Rose" because the yarn reminds me of denim and dried roses.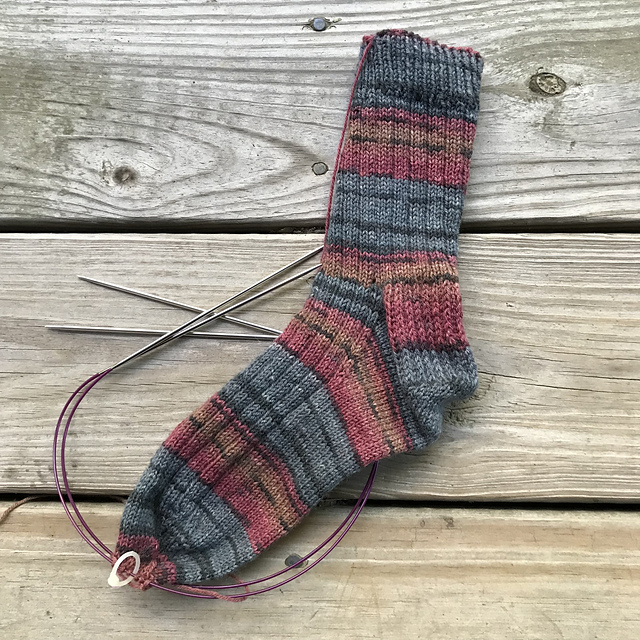 Links:
NOTE: Ravelry's current site design has been known to cause eye strain, headaches, or migraines, and even seizures in a few users. (To minimize the risk, set your Ravelry settings to "reduce motion" and "freeze animations," and choose the "Herdwick" light setting, which is much gentler than the bright white of their default setting.) Although it did offer optional modifications eventually, following widely-publicized protests, Ravelry has still not fully addressed the harm done to some users. For the sake of those who cannot safely use the site, or choose not to use it in protest, I will always provide alternate links/sites whenever possible, and will clearly label any Ravelry links I post. However, since many designers sell their patterns only through Ravelry, I can't always provide an alternate pattern link.
Related Posts