WIP Wednesday (for "Work In Progress") is a meme where we share our current fibery projects. It was started by Nicole @ Book-Wyrm-Knits, who also reviews books at book-wyrm-reads.
It's a long time since I did a WIP Wednesday post! (And yes, I know it's Thursday. Humor me, okay? It's been a tough week.) Here's what I've been up to recently:
Spinning
This was spun with a wool-alpaca blend in shades of red with a little black running through it; there's a tiny bit of gold angelina blended in for sparkle. I bought the fiber from Gurdy Run Woolen Mill at the last fiber festival I went to, in October 2019. (I haven't been to one since the pandemic started.) This skein is almost 8 ounces; it's a 2-ply sport- or DK-weight yarn. I've still got another half-ounce or so of the singles on the bobbin, waiting until I have time to make an Andean plying bracelet and ply it. (That's a technique for winding the yarn onto your wrist in such a way that you can ply from both ends, toward the middle, without one of the two sides untwisting partway as you ply.) Once I do that, I'll soak it and hang-dry it to set the twist, which will also let the yarn "bloom" or puff up a little.
This is my main project for Tour de Fleece 2022. The fiber is BFL (Blue-Faced Leicester), hand-dyed by Frabjous Fibers in their "Persephone" colorway (blue, blue-green, pink, and deep raspberry); it was a Christmas gift from my dad, who took me and Robin to the yarn shop to pick out what we would each like to spin. I'm spinning it on my Ashford Traditional wheel, keeping the singles fairly thin. I plan to chain-ply the singles to keep the colors together. The final yarn will probably end up around a worsted weight.
This is my secondary/travel project for Tour de Fleece. The fiber was a gift from Robin a few years ago. It's BFL, hand-dyed by Miss Babs (before they stopped dyeing fiber) in shades of purple. They called the colorway "Methods of Destruction," but that's a bit too close to the grain right now (what with the war in Ukraine and all), so I'm calling it Blackberry Jam. I'm spinning it on my travel wheel, a little Louet Victoria, and I haven't decided how I want to ply it yet.
Knitting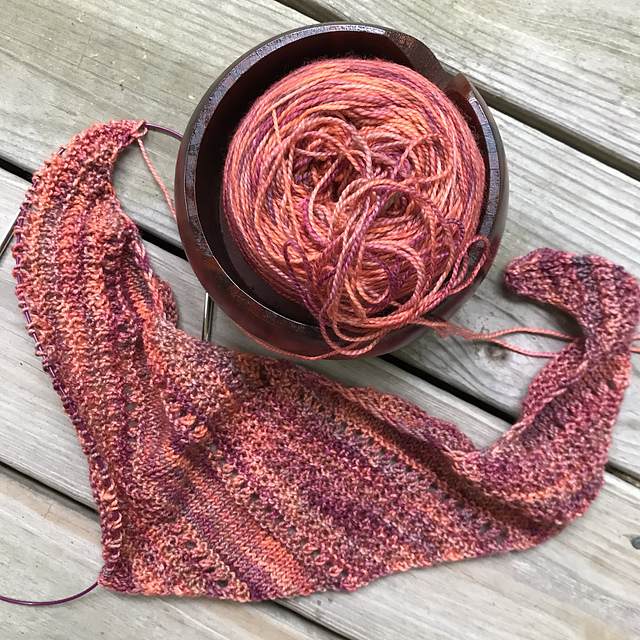 I have two active knitting projects at the moment (although I'm mostly concentrating on spinning until Tour de Fleece ends on July 24.) The first (above) is a Cobblestone shawl, above, knit with "Virginia" sock yarn from Urban Girl Yarns, in her "Blood Orange" colorway. The second (below) is a pair of plain-jane vanilla socks, knit with Saki Bamboo yarn from Wisdom Yarns, in the "Bijou" colorway. It's a little warmer than it looks in the photo; when I finish the socks, I'll try to get a better photo. But I'm still on the first sock, so it will be a while.
I have several projects that I have finished knitting, but either didn't get photos of before giving them away, or I haven't blocked the project yet. Once I get things blocked, I'll photograph them as best I can (the light in my house is terrible! and I no longer have Robin to model things), and add the completed projects to a future WIP Wednesday—or a FO Friday, like Nicole @ Book-Wyrm-Knits does.
Project Links:
Related Posts