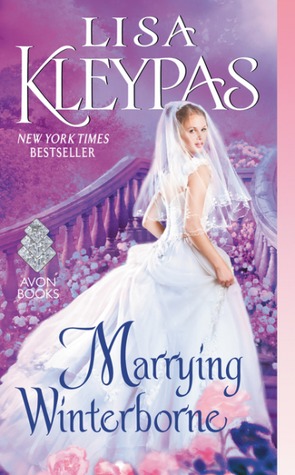 Marrying Winterborne Series: Ravenels #2
on May 31, 2016
Pages: 416
Purchase: Amazon
Add to Goodreads



Also in this series: Cold-Hearted Rake, Devil in Spring, Hello Stranger, Devil's Daughter, Chasing Cassandra, Devil in Disguise

A ruthless tycoon

Savage ambition has brought common-born Rhys Winterborne vast wealth and success. In business and beyond, Rhys gets exactly what he wants. And from the moment he meets the shy, aristocratic Lady Helen Ravenel, he is determined to possess her. If he must take her virtue to ensure she marries him, so much the better…

A sheltered beauty

Helen has had little contact with the glittering, cynical world of London society. Yet Rhys's determined seduction awakens an intense mutual passion. Helen's gentle upbringing belies a stubborn conviction that only she can tame her unruly husband. As Rhys's enemies conspire against them, Helen must trust him with her darkest secret. The risks are unthinkable…the reward, a lifetime of incomparable bliss. And it all begins with…

Marrying Mr. Winterborne
Review
Lisa Kleypas has another winner in Marrying Winterborne, which I liked even more than Cold-Hearted Rake. I loved both the main characters in this one. Rhys is more complex and less overbearing than I thought he would be, and Helen proves to have unsuspected reserves of courage and resolve. I was swept up into their story and the depth of feeling between them. I did wish for a little more of Rhys's backstory (though I enjoyed the Welsh phrases scattered throughout), but Helen's past was quietly heartwrenching. And the way Kleypas resolved the resulting conflict was the icing on the cake.
Kleypas doesn't neglect the secondary characters, either: the irrepressible twins, Cassandra and Pandora, are developed further (especially Pandora, whose story is next in line.) Lady Berwick, Katherine's former foster-mother and mentor, appears to be strict and something of a tartar, but she has an unexpectedly soft center. I'm also intrigued by Dr. Garret Gibson, a woman doctor in a day when women had to attend the Sorbonne to receive a medical degree, and the still-mysterious Ransom. I loved a character introduced toward the end of the novel (you'll know who when you get to them.) And I developed a sneaking fondness for Rhys's personal secretary, Mrs. Fernsby, who stands up to his demands with efficiency and aplomb. We don't see a lot of Devon and Katherine, which was rather a pity in my view, but their absence was necessary both from a plot standpoint as well as because events within the book conspired to call them away.
My favorite era for historical romance remains the Regency period, but I've been reading more and more novels set in Britain during the Victorian era, and they're really growing on me. The Victorian era presents some interesting juxtapositions for romance. In some ways, the social rules and expectations were even stricter for upper- and middle-class women, in part because of Queen Victoria's views on marriage and children. That's reflected even in the clothing, which required heavier corseting and more petticoats (and eventually, hoops followed by bustles) than the less-restrictive Empire-style fashions of the Regency. On the other hand, more jobs were available for working- and middle-class women, from shop assistant to nurse to factory worker. And women were pushing boundaries in education and the professions (particularly medicine) and beginning to press for their rights: to own property, to be protected from abusive husbands, to vote. The railroads were changing the face of Britain, allowing freer travel of both goods and people.  The Industrial Revolution was in full swing, and savvy, ambitious men like Rhys Winterborne could make fortunes manufacturing or selling mass-produced goods or the machinery to make them.  It's a process of social change that began in the Regency era but really gained momentum in the Victorian era.
Lisa Kleypas is quite at home in the early Victorian period (the Wallflowers and Hathaways series are set in the 1840s, for instance), but now she's tackling the mid-Victorian years; Cold-Hearted Rake begins in 1875. Kleypas has done a good job researching this later era, as far as I can tell, particularly in terms of details of dress, but also in subtly portraying a world in the midst of social change. Rhys Winterborne's department store is the major example, in a myriad of ways beyond its mere existence and Rhys's climb from working-class shop owner to one of the wealthiest men in Britain. Rhys is unusually broadminded (and pragmatic) when it comes to women's employment. The middle-aged Lady Berwick clings to the old class divisions and social rules, but is so seduced by the riches of Winterborne's that she might even consider shopping amid the hoi polloi.
But Helen and Rhys's romance stands front and center, and I was in no way disappointed. It's even better than Cold-Hearted Rake, perhaps because I was more sympathetic toward Rhys from the start, while it took me a while to warm up to Devon.
Pandora's story is up next, and Kleypas fans are in for a treat: the hero will be the son of someone we know from her earlier books. I won't spoil the surprise, but you'll find out who when you read the sneak preview at the end of Marrying Winterborne. Alas, Pandora's book won't be out until February 28, 2017. I don't know how I'm going to wait that long! I'm also nursing secret hopes for subsequent books starring Cassandra, Devon's brother West, Dr. Gibson, and Ransome—though I don't know who I'd like to pair with whom!
Related Posts