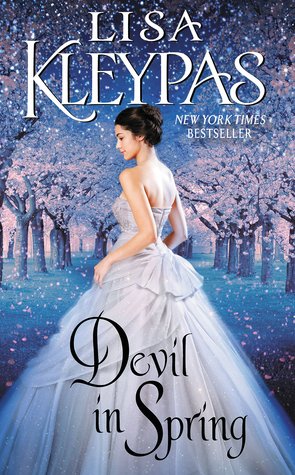 Devil in Spring Series: Ravenels #3
on February 21, 2017
Pages: 288
Purchase: Amazon
Add to Goodreads



Also in this series: Cold-Hearted Rake, Marrying Winterborne, Hello Stranger, Devil's Daughter, Chasing Cassandra, Devil in Disguise

An eccentric wallflower…

Most debutantes dream of finding a husband. Lady Pandora Ravenel has different plans. The ambitious young beauty would much rather stay at home and plot out her new board game business than take part in the London Season. But one night at a glittering society ball, she's ensnared in a scandal with a wickedly handsome stranger.

A cynical rake…

After years of evading marital traps with ease, Gabriel, Lord St. Vincent, has finally been caught-by a rebellious girl who couldn't be less suitable. In fact, she wants nothing to do with him. But Gabriel finds the high-spirited Pandora irresistible. He'll do whatever it takes to possess her, even if their marriage of convenience turns out to be the devil's own bargain.

A perilous plot…

After succumbing to Gabriel's skilled and sensuous persuasion, Pandora agrees to become his bride. But soon she discovers that her entrepreneurial endeavors have accidentally involved her in a dangerous conspiracy-and only her husband can keep her safe. As Gabriel protects her from their unknown adversaries, they realize their devil's bargain may just turn out to be a match made in heaven...
Review
Oh, how I loved Devil in Spring, the third book in Lisa Kleypas's series about the Ravenel family!  This is Kleypas at her finest: funny and perspicacious, compassionate and passionate. There are some wonderful scenes and moments, plus one of my favorite Kleypas heroines to date and a hero who is nearly as swoon-worthy as Sebastian or Cam Rohan.
Pandora captured my interest and empathy from the first moment. Imaginative, intelligent, impulsive, spirited, and fiercely independent, Lady Pandora Ravenel is far more interested in bringing her new board game to market than she is in finding a husband. In fact, she is adamantly opposed to marriage, at least for herself. Pandora is a feminist before the word even existed in English, although the concept had been around at least 1792, with the publication of Mary Wollstonecraft's A Vindication of The Rights of Women. (I was surprised that Pandora doesn't seem to have read the book since the family's arrival in London, since it so closely aligns with her beliefs.) She's much more interested in developing and selling her board game than in going about in society. I suspect she also has ADHD, along with a secret disability she keeps hidden (and which I'm not going to spoil, so don't ask.)
It was clearly going to take an extraordinary man to match Pandora, and Kleypas came up with the perfect choice: Gabriel, Lord St. Vincent, the eldest son of the Duke and Duchess of Kingston (aka Sebastian and Evie from The Devil in Winter.) When Gabriel accidentally compromises Pandora at a ball, he immediately offers to marry her. It is, after all, the only honorable thing to do, however reluctant he may feel. But between her vociferous opposition and what he learns and observes of her on that first evening, it's clear she's not at all suitable. Yet something in him is strongly attracted to her. The more he spends time with her, the more he is drawn to her, but he'll have to find a way to convince her to trust him with her independence as well as her heart.
And of course, he does: he rises to the occasion magnificently. Gabriel is both his parents' son, and while at first glance he is most like his father —  handsome, witty, debonair, passionate, and very nearly as worldly — he also has a fair share of Evie's kindness, understanding, and compassion, as well as an ability to observe details of people's behavior that go unnoticed by most. The scene in which he finally convinces her, by giving her something she thought she could never do, draws on several of those traits and is one of my favorites in a whole line of favorite scenes.
As much as I loved Pandora and Gabriel's story, I also loved seeing Sebastian and Evie, 30 years into their marriage, and meeting their children. Sebastian and Evie get more than just cameos; they each play an important if subtle role in furthering the relationship between Gabriel and Pandora. We also see some of the other characters from the series, including Devon and Kathleen Ravenel (Cold-Hearted Rake), and both Dr. Garrett and detective Ransome from Marrying Winterbourne.  (I'm secretly hoping for a romance between those, two eventually.) Lord Westcliff (It Happened One Autumn of the Wallflowers series, plus a number of other books) puts in an appearance in an early scene. Some of the new characters are appealing, too, particularly Phoebe, Gabriel's eldest sister; I dearly hope she gets her own story someday.
TL;DR: If you like Lisa Kleypas, or historical romance in general, you will love Devil in Spring. Pitch-perfect romance with all the feels, plus humor, a touch of mystery/suspense, and an absolutely irresistible hero and heroine.
Favorite Quote
Sebastian, who had begun to laugh, seemed struck by that last comment. "Ahhh," he said softly. "That explains it." He was silent for a moment, lost in some distant, pleasurable memory. "Dangerous creatures, wallflowers. Approach them with utmost caution. They sit quietly in corners, appearing abandoned and forlorn, when in truth they're sirens who lure men to their downfall. You won't even notice the moment she steals the heart right out of your body–and then it's hers for good. A wallflower never gives your heart back."

— Said by the Duke of Kingston to his son Gabriel, Lord St. Vincent. What makes it so delicious is that Sebastian himself was a notorious rake until a wallflower — Gabriel's mother — stole his heart in one of my favorite historical romances ever, THE DEVIL IN WINTER.
Related Posts