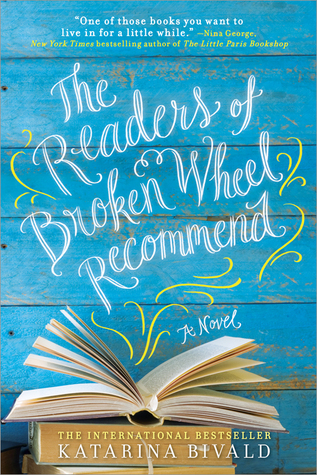 The Readers of Broken Wheel Recommend on Jan. 19, 2016
Pages: 400
Add to Goodreads


Once you let a book into your life, the most unexpected things can happen...

Broken Wheel, Iowa, has never seen anyone like Sara, who traveled all the way from Sweden just to meet her pen pal, Amy. When she arrives, however, she finds that Amy's funeral has just ended. Luckily, the townspeople are happy to look after their bewildered tourist—even if they don't understand her peculiar need for books. Marooned in a farm town that's almost beyond repair, Sara starts a bookstore in honor of her friend's memory. All she wants is to share the books she loves with the citizens of Broken Wheel and to convince them that reading is one of the great joys of life. But she makes some unconventional choices that could force a lot of secrets into the open and change things for everyone in town. Reminiscent of The Guernsey Literary and Potato Peel Pie Society, this is a warm, witty book about friendship, stories, and love.
I received a review copy of this book from the publisher through NetGalley.
Review
The Readers of Broken Wheel Recommend offers a heartwarming, sometimes whimsical look at a small Iowa town brought back to life by a bookstore.
Actually, that's a bit misleading. While the bookstore is important, the real magic is wrought by Sara, the Swedish visitor whose arrival, presence, and yes, love of books pull Broken Wheel's residents together.
Sara is an unlikely angel in some ways; she is shy, has almost no self-confidence, and is far more comfortable inside a book than dealing with real life and real people. Yet somehow, through her persistence, her innate kindness, and her conviction that a bookstore is what Broken Wheel needs, she manages to connect the townspeople to each other and to herself.
Neither Bivald's prose nor the plot are complex or ornamented, but they perfectly convey the feel of a forgotten, dessicating town surrounded by miles of cornfields. The landscape is spare but oddly appealing, even beautiful in its way. The setting is reflected in the book's pacing as well; it gets off to a slow start, then picks up just before the one-third mark, but remains unhurried even then.
It's the characters and their interactions that give the book life. From taciturn handyman Tom to organizer Caroline, from Grace the eccentric cook and diner owner to former drunk George, the people of Broken Wheel are at once completely ordinary and uniquely individual. Bivald paints her characters deftly and with understated affection, subtly encouraging the reader to see and appreciate the true value of each one.
One of the most important characters is known only through her letters. Sara's pen pal Amy Hastings invites Sara to visit, but dies just before Sara arrives. Yet her personality shines through in the letters she writes about Broken Wheel and the people in it, excerpts of which begin each chapter. Seeing the other residents through Amy's eyes helps us, as well as Sara, get to know them. It becomes clear that in many ways, Amy held the town together; without her, it will unravel, unless something — or someone — can pull it together. As unlikely as it seems, that someone turns out to be Sara.
Like the town of Broken Wheel, The Readers of Broken Wheel Recommend isn't important or momentous. Instead, its joys are found in simple storytelling and characters who slowly creep into your affections, and in the love of books and reading that lies at its heart. It's a little gem of a novel, as imperfect and special as the people it portrays.
Reading this book contributed to these challenges:
Related Posts