News & Notes is a weekly Saturday post featuring book- and publishing-related news, links to interesting articles and opinion pieces, and other cool stuff.
Literary Losses
James Gunn, science fiction author, editor, and SFWA Grand Master, died on December 23, 2020 at the age of 97. Gunn wrote several novels and a number of short stories, and edited several influential anthologies of science fiction. He was a professor of English at the University of Kansas for many years, and founded the Center for the Study of Science Fiction. Gunn served as SFWA President from 1971-1972.
Obituaries and tributes: SFWA
Biography and bibliography: Goodreads; Wikipedia
Bookish News
Worth Reading/Viewing/Checking Out
(not all book-related)
The Ten Biggest Literary Stories of the Year (Emily Temple, Literary Hub) Well worth reading, this article will remind you of—or inform you about—major stories and developments in the publishing world in 2020.
As Political Divide Widens, Will Big Houses Rethink Conservative Publishing? (Rachel Deahl, Publishers Weekly)
Page refresh: how the internet is transforming the novel (The Guardian) Author Olivia Sudjic takes a look at the impact of social media on contemporary novels, and I found it rather depressing.
DC Comics Leaves Its Legacy Behind (Publishers Weekly)
'If the aliens lay eggs, how does that affect architecture?': sci-fi writers on how they build their worlds. Alastair Reynolds, Nnedi Okorafor, Ann Leckie, Becky Chambers, Kim Stanley Robinson and M John Harrison discuss their approaches to worldbuilding. (The Guardian)
How-To
Books, Movies, TV
Lists
Bookish Humor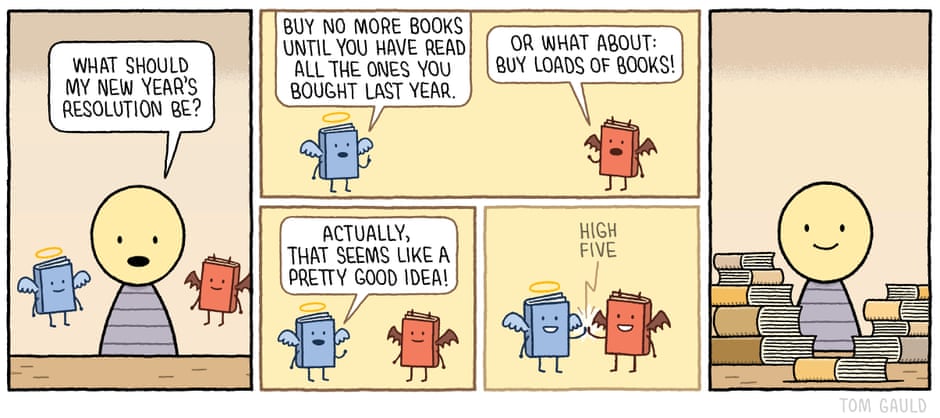 You can see more of Tom Gauld's cartoons for The Guardian here.
Related Posts