News & Notes is a weekly Saturday post featuring book- and publishing-related news, links to interesting articles and opinion pieces, giveaways on this and other blogs, and other cool stuff.
Books & Ebooks in the News:
Goodreads has added previews to some of its titles using Amazon's Kindle Cloud Reader. The previews will open inside Goodreads. So far, this only works for U.S. customers, and you have to be on a computer/laptop, not a smartphone or Kindle.
Maryland teacher removed from post, sent for psychological evaluation after writing both a novel about a school shooting (set well in the future) and a questionable 4-page letter to a school administrator. Initially, this looked like an overreaction on the part of school and law-enforcement authorities, but when I read the updates at the bottom of the article, I'm not so sure. (Jeffrey Goldberg, The Atlantic) The teacher also spoke on the phone with a Baltimore reporter. (CBS Baltimore)
Penguin Random House consolidation results in top-level changes at Penguin. The reorganization leaves Penguin president Susan Peterson Kennedy without a job as of the end of the year. (Publishers Weekly)
New Margaret Atwood novel to be locked in time capsule for 100 years as part of the Future Library project. (The Guardian)
Authors United Preparing New Amazon Initiative as the Hachette-Amazon standoff drags on. (Publishers Weekly)
Independent Author Network Launches Author Pages. The service is a promotion, discovery, and sales site for indie/self-published authors. (GoodEReader)
Worth Reading/Watching/Listening to:
We Have Always Fought: Challenging the 'Women, Cattle and Slaves' Narrative. Kameron Hurley has written an excellent post on how women have disappeared from our narratives about resistance, war, and, well, just about anything commonly associated with men. And how and why writers perpetrate that erasure of half the population, and why they shouldn't. Well worth reading. (from Aiden Moher's SFF blog, A Dribble of Ink)
Better Identification of Viking Corpses Reveals: Half of the Warriors Were Female. Well, nearly half. 6 out of 14 sets of bones studied… plus a 7th for which the gender was unclear. (Tor.com, with link to USA Today article)
Book Publishing, Not Fact-Checking. Most books, apparently, aren't actually fact-checked – a sobering thought when you realize that we're taught to believe that books are more reliable sources of information than, say, the Internet. (Kate Newman, The Atlantic)
Neil Gaiman Makes All the Book Clubs Swoon (and talks about The Ocean At the End of the Lane.) Video by Neil Gaiman, article by Rachael Berkey for Nerdist.
If you take away anonymity, most readers will not comment, according to a recent survey. And it's not because they're trolls, for the most part; it's because they don't want their views on potentially controversial subjects (the Middle East, say, or 50 Shades of Grey) to impact their personal and professional lives. (Matthew Ingram, GigaOm) Or maybe they just want to preserve their privacy while still engaging in the public discourse.
For Writers & Bloggers:
Literary Losses:
Cartoonist Stan Goldberg, who worked for Marvel before going on to draw the Archie comic books, died Sunday, 8/31/14, at the age of 82. The Washington Post has a wonderful tribute to him.
Book & Movie Announcements: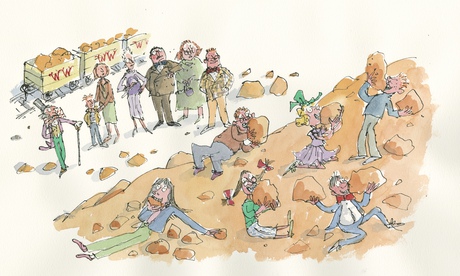 Illustration by Quentin Blake
Freebies & Bargains:
Awesome lists:
I'm always on the lookout for interesting articles, lists, and links for News & Notes, so please let me know if you see (or write!) anything that might be good for this feature. You can leave me a comment or send me an email — my address is on the About/Review Policy/Contact page.
Related Posts