If you are a lover of mysteries, particularly the "cozy" type, no doubt you have noticed the recent and rapid proliferation of themed mystery series. There are series featuring bookshops, catering or cooking, inns or hotels, gardening, scrapbooking, reading groups, ghosts, needlecrafts in general and knitting in particular, and even chocolate. There are also a plethora of mysteries set in small towns or rural locations. (Cozy-Mystery.com has a fairly extensive list of series by theme and by location, if you are interested.)
To be honest, I've only sampled a few of these. Many are set in America, and I generally prefer British mysteries, or at least mysteries set in Britain. Most are contemporary, and a lot of my favorite mysteries are set in the past (though they may have been contemporary when they were written.) Some themed mysteries are a little too light for my taste; the characters lack dimension, or the story fails to satisfy. Here are a few series which have caught my attention.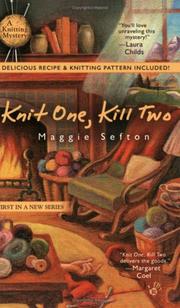 A few years ago, as a result of a renewed interest in knitting, I picked up Maggie Sefton's knitting-themed mystery series, beginning with the first book, Knit One, Kill Two. Set in a thinly-veiled Fort Collins, Colorado, the series features CPA and novice knitter Kelly Flynn and her growing circle of friends at the House of Lambspun yarn shop, which sits next door to the house Kelly has just inherited from her murdered aunt. The series belongs in the cozy genre without being too light, and the characters are, for the most part, not mere cardboard cutouts, a serious flaw in some "light" mysteries. My main quibble with Sefton's books is that Kelly is a dangerous person to be around: her acquaintances keep turning up dead (though not her close friends, at least so far.) Still, that's a fault of many amateur-detective series — if I ever meet Nancy Drew, I will run screaming! At any rate, I've enjoyed Sefton's series enough to follow it through seven books and am awaiting the eighth, due out this June.
Mary Kruger also began a promising series focused around knitting, but sadly, she has not kept it up; there are only two books in the series. Kruger is a good writer. Her characterizations were excellent and her mysteries intriguing, enough so that I plan to try her other series, set in the Gilded Age.
Some years ago, I stumbled upon several of Kate Kingsbury's Pennyfoot Hotel series. The setting, a British seaside hotel in Edwardian England, appealed to me immediately, and both the main characters and the mysteries were reasonably engaging. Yet for some reason, after reading five or six books, I simply lost interest and stopped reading them. It may be that I was going through a very difficult time in my life, and had little energy for anything else; perhaps I will give the books another try.
I recently started reading Laura Childs' Tea Shop Mystery series after receiving the first three books for Christmas. (I love getting books for Christmas! Especially new authors. Especially if I turn out to like them.) Ms. Childs' series features Theodosia Browning, owner of a Charleston tea shop, who seems to have a knack for being around when murder occurs. The series is relatively light and frothy, a good choice for curling up with a cup of tea. The mysteries are interesting (if somewhat predictable), and tea aficionados will enjoy the tea lore scattered throughout the books. There are also recipes in the back for some of the goodies served in the tea shop. Unfortunately, the author's descriptions of historic Charleston often sound as if they are taken straight from a travel guide, and the relationship between Theo and her boyfriend (a lawyer who seems oddly unconcerned about her sleuthing) is very sketchy. Despite these minor drawbacks, I've enjoyed the books enough to seek out several more from the library.
Unlike Laurie R. King's rich, evocative, and thoroughly addicting Mary Russell novels (see "Can't Wait for God of the Hive"), the series by Sefton, Kingsbury, and Childs fall into the "mind candy" or "summer reads" category. They neither make demands nor are they particularly enriching, but they offer a very pleasant diversion at the end of a long day.
Related Posts