Top Ten Tuesday is a weekly feature/meme now hosted by That Artsy Reader Girl. The meme was originally the brainchild of The Broke and the Bookish. This week's topic is Bookish Items/Merch I'd Like to Own.
When it comes to spending money and finding space for more stuff, I'd usually rather focus on books than on book-related merchandise. But that doesn't mean I don't have a wish list! Here are a few things that have caught my bookwyrm-ish eye.
Bookwyrm and Dragon Bookmarks, like these from DelythThomasArt on Etsy (top) and glowingraptor on Weasyl (middle) and IsabelGedigkArt on Etsy (bottom.) Actually, I'm a sucker for bookmarks generally. Owls, teacups, and bookish quotes are also appealing.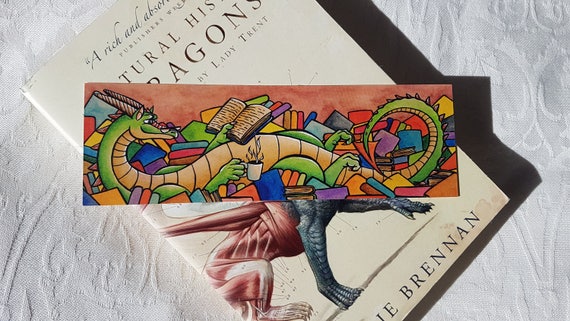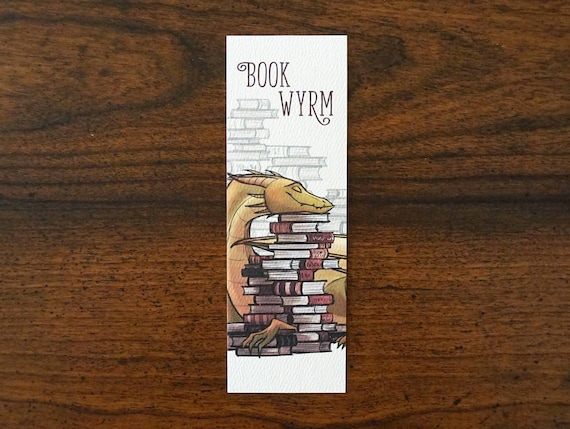 Bookish T-shirts and socks, especially from any of my favorite fantasy series. (Or, you know, a bookwyrm t-shirt.) I'm particularly fond of this Hermione quote, from Out of Print,  the Harry Potter Alliance, the BookRiot store, and several other places.
Bookwyrms for my shelves. I already have a dragon shelfsitter; he was the inspiration for the bookwyrm in my logo (commissioned from Christin Jaynes.) But I would love a few more bookwyrms and book dragons sitting around on my shelves. Maybe something like these, which I saw here but can't find anywhere for purchase.

A totebag with my Bookwyrm's Hoard logo on it. What's below is just a mock-up. Unfortunately, the drawing wasn't scanned at a resolution to size up well for a tote bag, so I probably can't create one IRL.  (I don't know if the artist still has the original, because I can't reach her.)
Bookish teas like these from Literary Tea Company:
A proper wand from Ollivander's. One that actually works. But since that's not possible here in the Muggle world, I wish I had one from Alivan's… maybe one of these.  (Full disclosure: I already have a wand, but pretty basic and not as finely crafted as the Alivan's wands.)
Pillows, like these from Pottery Barn Teen, PaperFury, and Book Boutique (both at Society6.)
I thought about candles, Funko pops, buttons, pins, and so on, but I already have more regular candles than I can use up, I don't really need Funko pops, and I have a bunch of bookish buttons already. A few more enamel pins would be nice, though.
So what's on your bookish wish list?
Related Posts