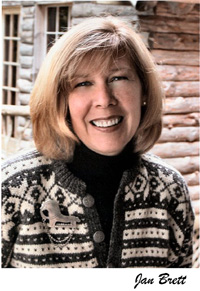 Happy Birthday to author-illustrator Jan Brett! Her beautifully illustrated books have been favorites of ours since well before our daughter was born – though it was Robin's birth that gave me the excuse to start buying them.
Brett was born on Dec. 1., 1949, making her 65 today. . . but I hope she doesn't retire any time soon!
If you've never seen a Jan Brett book, what makes the illustrations so special is her attention to detail, her wonderful animals, and the way she often incorporates the folk arts of relevant cultures into her art. She often includes a border or side panels which not only enrich the main illustration but give a secondary POV or a look at what's happening elsewhere, which adds extra charm. This page spread from The Wild Christmas Reindeer is a great example: the reindeer are beautifully rendered but also given individuality and emotion; Teeka's clothing and the borders and side art reflect Swedish culture, and the side panels show the elves preparing toys and goodies to fill Santa's sacks.
To celebrate Jan's birthday, here are a few of our favorites among her holiday- and winter-themed books:
In  The Wild Christmas Reindeer, Teeka finds that gentleness and patience work better than yelling as she works to prepare the reindeer to pull Santa's sleigh. Brett incorporates Swedish folk art and architecture in this charming story, which is perfect for before-Christmas reading. As I mentioned above, the center spread illustrates Teeka's story, while the side panels show the various towers and buildings of Santa's workshops. Children and adults alike can enjoy matching each side panel to the buildings seen in an illustration of the entire compound, and delight in the variety of toys and treats produced there.
Trouble with Trolls is a delightful story of Treva, the trolls who want her dog, and the clever ways in which she tricks them, one after another – and finally all five together. Here, the artwork and story both reflect Scandinavian influences, particularly in Brett's use of traditional knitting and needle art patterns. The main illustrations follow the primary storyline, while a panel at the bottom of each page shows the trolls underground home and wordlessly tells another story – that of a hedgehog seeking a warm place to stay.
Gingerbread Baby is Brett's whimsical and delightfully humorous retelling of "The Gingerbread Man." Matti opens the oven too soon, and the gingerbread baby jumps out and leads Matti's parents and the whole village on a merry chase. The side panels show Matti at work in the kitchen, baking a gingerbread house to catch the gingerbread baby.  Once again, Brett uses Scandinavian art and culture to put her unique stamp on the story.
The Mitten is another folktale adaptation. One by one, the animals of the forest cram inside a fallen mitten to stay warm. Finally, it is not the biggest but one of the smallest who turns out to be just one too many for the poor mitten. The side panels show young Nicki looking for his lost mitten. For this book, Brett draws on the Ukrainian folk culture from which the original tale comes.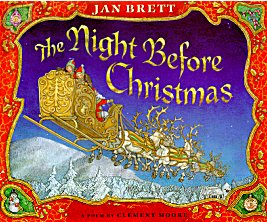 Finally, there's The Night Before Christmas, Clement Moore's classic Christmas poem, gorgeously illustrated with artwork that draws on cultures from across Europe and adds a hint of the Victorian era. The border art is full of toys and gift as well as vignettes involving various animals and the elves on the roof. It's the perfect Night Before Christmas to read on Christmas Eve. (Incidentally, there's an interactive iTunes ebook version of this available with narration by Jim Dale. I haven't seen it, but Jim Dale is awesome, and the interactivity adds music and sounds, so it could be awesome.)
There you have it, our five favorite winter-and-Christmas books by Jan Brett. There are several other wonderful books that could easily have made the list as well: Who's That Knocking On Christmas Eve? , Christmas Trolls, and The Hat among them.
And if you still haven't had enough Jan Brett, check out her website, which has printable and online games, activities (including Dolch sight words and addition/subtraction activities), coloring sheets, and cards as well as links to her books. It's a great resource for preschool and early primary teachers, parents, and homeschoolers.
One last note: Jan Brett loves hedgehogs. If you look, you can find at least one in most (though not all) of her books. And I would be remiss if I didn't mention her series of books starring Hedgie!
Related Posts