'Treasures from the Hoard' are books I treasure and re-read.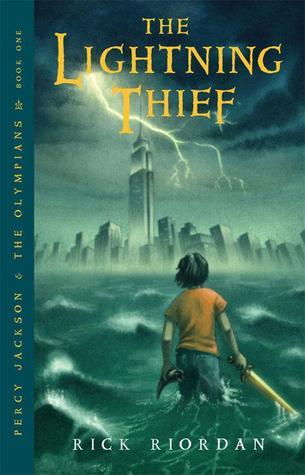 Description:
Percy Jackson is about to be kicked out of boarding school… again. And that's the least of his troubles. Lately, mythological monsters and the gods of Mount Olympus seem to be walking straight out of the pages of Percy's Greek mythology textbook and into his life. And worse, he's angered a few of them. Zeus' master lightning bolt has been stolen, and Percy is the prime suspect.

Now Percy and his friends have just ten days to find and return Zeus' stolen property and bring peace to a warring Mount Olympus. But to succeed on his quest, Percy will have to do more than catch the true thief: he must come to terms with the father who abandoned him; solve the riddle of the Oracle, which warns him of betrayal by a friend; and unravel a treachery more powerful than the gods themselves.

(Goodreads)
Review:
The first Percy Jackson book starts of with a bang — almost literally, as a field trip goes horribly wrong and he vaporizes his pre-algebra teacher. The teacher, of course, is not quite what she seems; nor is Percy himself, though he doesn't know exactly what he is yet. He's about to find out, though, and what follows is a wild ride as Percy travels across the country and to some pretty out-of-this-world places (again, quite literally.) Along the way, he makes a few friends, battles more than a few monsters, and tries to save the world.
Rick Riordan knows how to grab his young (and not-so-young!) readers and keep them turning the pages. He clearly knows his middle-graders, too; Percy's voice is a pitch-perfect blend of snark, matter-of-factness, and vulnerability. The humor and suspense are well-balanced throughout, and nobody does chapter titles like Riordan: Three Old Ladies Knit the Socks of Death; Grover Unexpectedly Loses His Pants. The amazing thing is that Riordan pulls all this off while packing the book with information, making The Lightning Thief (and the rest of the series) a crash-course on Greek mythology. An entire generation of Riordan's readers is growing up knowing more about Greek myths than many of their parents did — but it's all so pleasingly packaged that most kids may not realize for years just how educational the books really are.
* * *
Rating: 5 stars
Category: MG fantasy
Series: Percy Jackson and the Olympians #1
Publisher: Disney Hyperion
Release date: first published 2005
Book source: my collection
Percy Jackson series in order:
The Lightning Thief
The Sea of Monsters
The Titan's Curse
The Battle of the Labyrinth
The Last Olympian
Challenges:

Related Posts