Since my post on March 4 focused on Agatha Christie's writings, I thought this might be a good time to discuss the numerous theatrical, television, and film adaptations which have been made of her works.
Christie herself wrote several plays, including Black Coffee and The Unexpected Guest, and adapted a number of her novels and short stories for the theatre as well (And Then There Were None, Witness for the Prosecution, and Towards Zero, among others.) The Mousetrap, her adaptation of the locked-room short story Three Blind Mice, remains the longest-running play ever; it debuted in London in 1952; Oct. 6, 2012 will mark its 60th birthday. She also wrote or adapted from short stories several radio plays and wrote one television adaptation, The Wasp's Nest (1937, from a short story by the same name.)
Film adaptations date all the way back to 1928's The Passing of Mr. Quinn, which was followed almost immediately by a German adaptation of The Secret Adversary (Die Abenteurer GmbH.) All in all, there have been over 30 adaptations for the silver screen in English and other languages.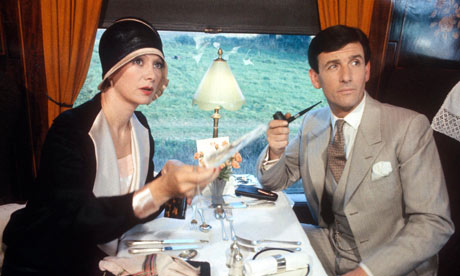 Francesca Annis & James Warwick as the Beresfords
The original Tommy and Tuppence novel, The Secret Adversary, was adapted by Britain's LWT and ITV for television in 1983, with James Warwick and Francesca Annis starring as Tommy and Tuppence Beresford. The two-part adaptation was quickly followed by 2 seasons (10 episodes) of "Partners in Crime." Although perhaps slightly old for their parts, Warwick and Annis have good chemistry, and the series is both fun and entertaining — not least for the costumes and Annis's incredible hats.
Many actors have assayed to portray either Hercule Poirot or Miss Marple, Christie's most iconic characters. None have captured the essence of the former as well as David Suchet or the latter like Joan Hickson. Each of their portrayals is spot-on, aided in both cases by good direction, excellent production values, and most importantly by a close (although not always perfect) adherence to Christie's original stories. Like "Partners in Crime", both Suchet's "Poirot" and Hickson's "Miss Marple" series aired in the U.S. as part of Mystery! on PBS.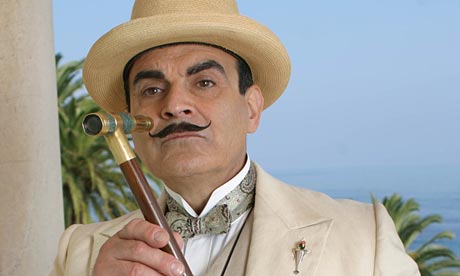 David Suchet as Hercule Poirot
Suchet shines as the Belgian detective, a role he has owned since 1989. A superb character actor, he becomes Poirot in every detail; no other actor has captured Poirot's voice, mannerisms, and movements as accurately. The more recent Suchet offerings are somewhat less faithful and more sensationalized, if still enjoyable, but the first five or six seasons are almost pitch-perfect. Sadly, the series appears to be coming to the end of the line; according to IMDB.com, 2012 should see 5 episodes aired in the UK, including an adaptation of Curtain, the final Poirot novel. (No word on whether or when those episodes will air in the US, but if PBS doesn't pick them up, no doubt Acorn Media, which recently purchased 64% of the Christie estate, will do release them on DVD.)
Other actors who have portrayed Poirot (often loosely) include Tony Randall (1965's The Alphabet Murders), Peter Ustinov (several films), and Albert Finney, who starred in the 1974 version of Murder on the Orient Express (in my opinion the second-best Poirot after Suchet.)
Joan Hickson as Miss Marple
Joan Hickson, who starred in the BBC's television adaptations of Miss Marple from 1984 to 1992, is perfectly cast as Miss Marple, showing both her dithery outer persona and the keenly observant, relentless mind within. Hickson was allegedly Christie's own choice to play the role, although reports differ as to whether Christie mentioned this to Hickson during the stage run of Appointment with Death in the 1940s or during the filming of Murder She Said in 1962. (The film starred Margaret Rutherford, whose portrayal of Miss Marple in four films was widely criticized. Helen Hayes and Angela Lansbury have also played Miss Marple; none of the three is well-cast despite their considerable talent.) Like Suchet, Hickson is a consummate character actor who truly inhabits the role, which won her several awards as well as an OBE.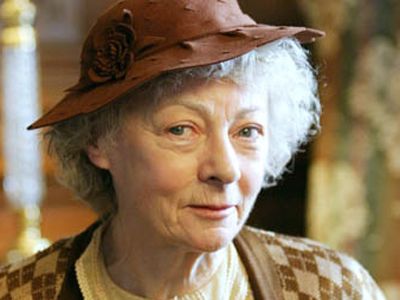 Geraldine McEwan as Miss Marple
Somewhat to my dismay, Chorion, Granada TV, and WGBH have been re-making the Miss Marple mysteries under the series title of "Agatha Christie's Marple" (an appellation which would have made the proper Miss Marple shudder) and starring first Geraldine McEwan and later Julia McKenzie. I freely admit that I have only seen the first episode of what is now a five-season series; to be honest, I was too annoyed by that one to continue. I don't feel that McEwan is quite as well cast as Hickson, though she is certainly much better than Rutherford. More distressing by far are the liberties taken by the producers. In the initial episode, The Body in the Library, the murderer has been changed from one character to another, introducing a same-sex relationship which is quite absent from the original plot. Whether the change was motivated by a desire to seem up-to-date (a curious goal for a period mystery) or to surprise or trick the audience, it was completely unnecessary and the very sort of meddling which tended to exasperate Christie herself.* Nor did the producers stop there; I gather from various sources that in subsequent episodes they appear to have changed motivations or murderers, taken drastic liberties with the plot or in some cases rewritten it altogether, and inserted Miss Marple into not just one but at least eight mysteries in which she did not originally play any role at all (for example, Towards Zero, a Superintendent Battle mystery; By the Pricking of My Thumbs, a Tommy and Tuppence novel, and Why Didn't They Ask Evans?, which was a stand-alone mystery.) While the new series may be entertaining to those unfamiliar with Christie's novels, it's definitely not Christie as the author intended it. Purists are advised to avoid the inevitable aggravation and stick to the estimable Joan Hickson series.
* * * * *

* It's not the nature of the newly-introduced love affair to which I object, but the high-handed way in which the producers blithely changed the plot and characterizations. (The original marriage comes as enough of a surprise to the reader/viewer, particularly one who is aware of class differences at the time.) Christie herself occasionally portrayed same-sex relationships between women in her books, including A Murder is Announced, but they always hinted at discreetly, clear to see if one reads between the lines but never overtly stated — an approach which was not unusual for women authors of her era, and therefore seems more appropriate to a period mystery.
Related Posts