News & Notes is a weekly Saturday post featuring book- and publishing-related news, links to interesting articles and opinion pieces, giveaways on this and other blogs, and other cool stuff.
I had a spectacularly busy week on the non-blogging front, so this week's News & Notes is a little sparse, but there are some interesting links. Have fun!

Books & Ebooks in the News:
Costumed Jane Austen fans break world record in Bath (England). Around 550 people gathered outside the Assembly Rooms, all dressed in Regency costume in homage to Austen. The event was part of the 10-day Jane Austen Festival. (The Telegraph)
The National Book Award longlists for 2014 have been announced. Among the nominees: Jane Smiley, Laurie Halse Anderson, Edward O. Wilson, and Carl Hiasson.
HarperCollins adds a new security layer to its ebooks. The technology adds a unique, invisible digital watermark throughout the file, so that if the book is pirated and put online, the source can be tracked and identifies. (Digital Book World)
The World Fantasy awards are under pressure to change their trophy – from a bust of writer (and racist) H. P. Lovecraft to something or someone else. (The Guardian)
Amazon debuted several new Kindle readers. The old basic Kindle with the buttons has been replaced with a touch screen version for $79. The Kindle Voyage is like the Paperwhite, but with a better screen, better lighting, and pressure-sensitive "buttons" for turning pages without swiping (though you can still tap or swipe if you want.) There's a smaller, cheaper 6-inch Kindle Fire tablet for under $100, and a Kindle Fire for Kids. And the Kindle Fire HDX 8.9 (the largest one) has been updated.
Worth Reading/Listening to:
Literary Losses: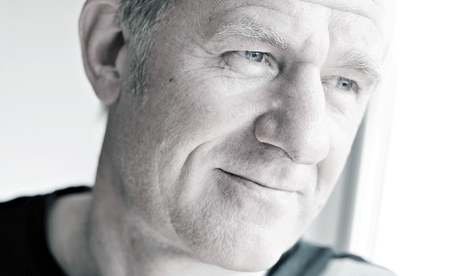 Graham Joyce. Photo: Gollancz
Graham Joyce, author of a number of dark fantasy novels and several YA novels, died two weeks ago on Sept. 9, 2014, at the age of 59. Joyce is perhaps best known for The Tooth Fairy and Some Kind of Fairy Tale. His newest book, The Ghost in the Electric Blue Suit, had just been released in August in the U.S. (It was published last year in Britain as The Year of the Ladybird.)
Obituaries: The Los Angeles Times; The Guardian; Locus Online; i09. You can also read some of Joyce's blog posts on writing, cancer, and life on his website.
Book & Movie

Announcements:
David Walliams and Jessica Raine as Tommy and Tuppence Beresford
There's another BBC Agatha Christie adaption in the works. This time, they'll be doing some of the Tommy and Tuppence mysteries – The Secret Adversary and N or M. It will be interesting to see what they do with them. The first book takes place immediately post-WWI, while the second takes place during WWII; I can't think how they can take the characters from early 20s to middle-age in one fell swoop, but I also can't quite figure out how they could adapt the plots to fall closer together in time. The costumes look a bit 1940s to me. At least they've got Tuppence's hat fetish right! I loved the original Tommy & Tuppence series with Francesca Annis and James Warwick, but I'll try to approach the new miniseries with an open mind. (See also this article from The Telegraph.)
Awesome lists:
Just for fun:
Bookish Quotes:
That's it for this week!
I'm always on the lookout for interesting articles, lists, and links for News & Notes, so please let me know if you see (or write!) anything that might be good for this feature. You can leave me a comment or send me an email — my address is on the About/Review Policy/Contact page.
Related Posts