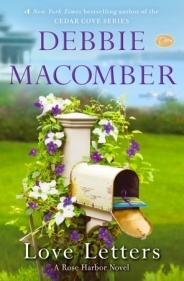 Description:
In this enchanting novel set at Cedar Cove's cozy Rose Harbor Inn, #1 New York Times bestselling author Debbie Macomber celebrates the power of love—and a well-timed love letter—to inspire hope and mend a broken heart.

Summer is a busy season at the inn, so proprietor Jo Marie Rose and handyman Mark Taylor have spent a lot of time together keeping the property running. Despite some folks' good-natured claims to the contrary, Jo Marie insists that Mark is only a friend. However, she seems to be thinking about this particular friend a great deal lately. Jo Marie knows surprisingly little about Mark's life, due in no small part to his refusal to discuss it. She's determined to learn more about his past, but first she must face her own—and welcome three visitors who, like her, are setting out on new paths.

Twenty-three-year-old Ellie Reynolds is taking a leap of faith. She's come to Cedar Cove to meet Tom, a man she's been corresponding with for months, and with whom she might even be falling in love. Ellie's overprotective mother disapproves of her trip, but Ellie is determined to spread her wings.

Maggie and Roy Porter are next to arrive at the inn. They are taking their first vacation alone since their children were born. In the wake of past mistakes, they hope to rekindle the spark in their marriage—and to win back each other's trust. But Maggie must make one last confession that could forever tear them apart.

For each of these characters, it will ultimately be a moment when someone wore their heart on their sleeve—and took pen to paper—that makes all the difference. Debbie Macomber's moving novel reveals the courage it takes to be vulnerable, accepting, and open to love.
Review:
A moving and heartwarming tale of betrayal, loss, and healing. The main characters' pain is at times heartwrenchingly real, and always believable. What's wrong in Roy and Maggie's relationship goes very deep, and Ellie's feelings of abandonment and betrayal ring true as well. Unfortunately, that makes the ultimate healing and resolution of both issues seem a bit too rushed. Still, Macomber pulls it off, leaving me feeling hopeful and optimistic for the future of all concerned.
Since I first started reading this series, I've been really drawn to the longer story arc of the innkeeper, Jo Marie, and her taciturn, somewhat irritable handyman, Mark Taylor. Things come to somewhat of a head in this novel, with any resolution very much up in the air — a tactic that works only because the guests' stories are resolved, or well on the way to it, by the end of the book. Mark intrigues me almost as much as he does Jo Marie, who is itching to know his history. He reveals several unexpected facets in this book, which only serve to make him both more appealing and more mysterious.
Macomber alternates between first person narration (Jo Marie) and limited third person (the guests at the inn), and it works surprisingly well. There's also a running theme in this book, summed up in the title: a love letter from Jo Marie's deceased husband, a love letter Roy wrote to Maggie before their marriage, and letters and emails sent between Ellie and Tom and between Ellie's long-divorced parents. Letters that prompt memories, build or strengthen bonds, remind the reader of love once felt. It's the letters that provide the bridge between what was and what can be. Jo Marie sees the inn as a healing place, but this time around, it gets a lot of help from all those love letters.
* * *
Rating: 3.5 stars
Category: Women's fiction; contemporary romance
Series: Rose Harbor #3
Publisher: Ballantine
Release date: 8/12/14
Book source: review copy (ebook) from the publisher via Edelweiss
The Rose Harbor series in order:
1. The Inn at Rose Harbor
2. Rose Harbor in Bloom (review)
3. Love Letters (this review)

Challenges:

Related Posts