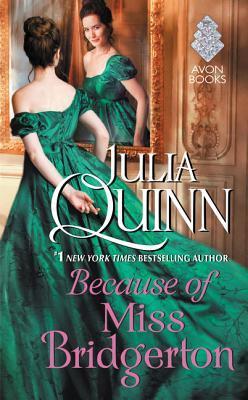 Because of Miss Bridgerton Series: Rokesbys #1
on March 29, 2016
Pages: 384
Add to Goodreads


Sometimes you find love in the most unexpected of places...

This is not one of those times.

Everyone expects Billie Bridgerton to marry one of the Rokesby brothers. The two families have been neighbors for centuries, and as a child the tomboyish Billie ran wild with Edward and Andrew. Either one would make a perfect husband... someday.

Sometimes you fall in love with exactly the person you think you should...

Or not.

There is only one Rokesby Billie absolutely cannot tolerate, and that is George. He may be the eldest and heir to the earldom, but he's arrogant, annoying, and she's absolutely certain he detests her. Which is perfectly convenient, as she can't stand the sight of him, either.

But sometimes fate has a wicked sense of humor...

Because when Billie and George are quite literally thrown together, a whole new sort of sparks begins to fly. And when these lifelong adversaries finally kiss, they just might discover that the one person they can't abide is the one person they can't live without...
I received a review copy of this book from the publisher.
Review
The best Julia Quinn I've read in a while — and that's saying something! I love the characters of Billie and George. I love the fact that it's very much about character and relationship development, without too much intrigue. I love the dynamics between siblings and childhood friends (George, his brother Andrew, Billie, and her sister Georgiana.)  And I love the dialogue, which sparkles with the wit and humorous repartee that makes Julia Quinn one of my favorite romance writers, historical or otherwise.
The opening scene had me laughing from the start, and I'm pretty sure I didn't stop smiling through the entire books. Quinn deftly portrays Billie and George's initial sniping and their dawning (almost horrified) awareness of their growing attraction, laying the groundwork for George's feelings almost from his first appearance.
Billie is a breath of fresh air, a young woman who serves unofficially as her father's steward or estate manager and to that end rides astride, in breeches. She's resourceful, courageous, impetuous, and totally dedicated to her family, which by virtue of long association includes the Rokesbys. When they were growing up, poor George was excluded (due to his age and position as heir) from the tightknit foursome of Edward, Mary, and Andrew Rokesby and Billie Bridgerton, but he and Billie still consider each other "family" to some extent. He has a history of disapproving of her independent ways, and it was fun to see that disapproval convert to acceptance and eventual admiration. Both of them mature during the novel, without ever losing the traits that make them who they are.
I'm pleased that Quinn is exploring an earlier era of British history. There are so very many Regency and post-Regency romances out there, and a fair number of mid- to late Victorian-era romances. But with the notable exception of Jo Beverly's Malloren series, far fewer are set in the mid- to late 18th century. Because of Miss Bridgerton takes place in 1779, placing it during Britain's war with the upstart American colonies. I would like to see a bit more historical detail, but it's so refreshing to visit a relatively "new" period of history.* And of course, there's the fun of seeing the previous generations of Bridgertons, who are as witty, as spirited, and as family-centered as young Edmund's eventual offspring will be. (See the Bridgertons series.)  They're also just as cut-throatedly competitive when playing Pall Mall — and we get to see the origins of the pink mallet and the Mallet of Death, in a scene that had me laughing out loud.
This new series is called "the Rokesbys" and will apparently feature George's family. His brother Edward's story is coming in 2017. But I do hope we'll get to see the eventual courtship of Edmund and Violet** (once Edmund grows up, of course; he's all of 15 and off at Eton during this book.) And I have hopes for 14-year-old Georgiana Bridgerton, too; she's quiet compared to Billie, but she's got the family spark of humor. Mostly, though, I'm just delighted to be back in the Bridgertons' milieu, experiencing another generation of the family.
*I say "new" because it's new to me in terms of romances (not having read Jo Beverly yet), but I'm a huge British history nerd — so much so that my daughter Robin and I spent her 8th- and 9th-grade years studying it when we were homeschooling.
**Sadly, JQ says in her Bridgertons FAQ that she doesn't plan to write Edmund and Violet's story, in part because (SPOILER for those who haven't read the Bridgertons series) he dies at 39. But… I can always hope she'll change her mind, right?
 *     *     *
About the cover: *sigh* It's a lovely cover. Truly, it is. Beautiful model, beautiful dress, absolutely gorgeous color. But it's historically inaccurate to the point of being ludicrous, which hurts my costume-lover's soul. Please, Avon, give your very talented cover artists a quick lesson in costume history, and your models something to wear that at least approximates the right silhouette for the period. (Both dresses below would probably have been worn with a lace fichu tucked around the neckline – especially the yellow one.)
Related Posts