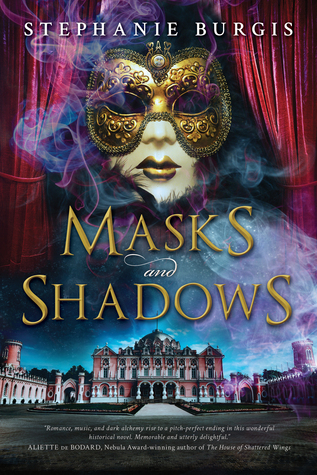 Masks and Shadows on April 12th, 2016
Pages: 300
Add to Goodreads


The year is 1779, and Carlo Morelli, the most renowned castrato singer in Europe, has been invited as an honored guest to Eszterháza Palace. With Carlo in Prince Nikolaus Esterházy's carriage, ride a Prussian spy and one of the most notorious alchemists in the Habsburg Empire. Already at Eszterháza is Charlotte von Steinbeck, the very proper sister of Prince Nikolaus's mistress. Charlotte has retreated to the countryside to mourn her husband's death. Now, she must overcome the ingrained rules of her society in order to uncover the dangerous secrets lurking within the palace's golden walls. Music, magic, and blackmail mingle in a plot to assassinate the Habsburg Emperor and Empress--a plot that can only be stopped if Carlo and Charlotte can see through the masks worn by everyone they meet.
I received a review copy of this book from the publisher.
Review
An opulent, glittering court… a cast of characters reminiscent of Mozart's best operas…
Kind, intelligent, and musically talented, Charlotte von Steinbeck has been sheltered from the politics and excesses of the aristocracy by her early marriage to a much older man, and her years with him in the countryside. Arriving at Esterhaza at the behest of her younger sister, Charlotte is uncomfortable with Sophie's role as mistress to Prince Nikolaus. Nor does she know what to make of Carlo, whose androgynous voice and features both attract and repel her. I love Charlotte's generosity and loyalty to her maid, Anna, but I both admired and deplored her loyalty to the spoiled and self-centered Sophie. Above all, I connected with Charlotte's passion for music, which builds a tenuous bridge between herself and Carlo.
Carlo Morelli was born an Italian peasant, but by virtue of his extraordinary voice, he has risen to be the feted guest of princes and emperors. Unlike Charlotte, he understands and excels at the complex social dance of court. He's erudite, a consummate musician, and a skilled courtier, constantly playing his part and apparently content to do so. Nonetheless, I grew to like him very much, particularly because his honesty within his own mind let me see the real man beneath the mask.
Three secondary characters also became favorites of mine: the kindly Kapellmeister Haydn, Nikolaus's court composer (yes, that Haydn); Princess Maria Elisabeth, Nikolaus's disregarded wife; and Anna, Charlotte's young maid, who accompanies her to Esterhaza.
There are a number of more ambiguous characters, some likable, some decidedly not so, including Sophie herself, the Prussian spy and the alchemist mentioned in the blurb, several of Haydn's singers, two soldiers, and a pair of little people.
Burgis has done an marvelous job of evoking the glittering artifice, social hierarchies, and convoluted politics of the Esterhazy court, from lowly underservants to more honored servants (like Haydn) to the courtiers and Prince Nikolaus himself. But Esterhaza, it seems, is rife with masks and intrigue: there are secrets within secrets, motivations both overt and hidden, and under it all, a chilling hint of dark magics.
The novel itself is structured almost like an opera. Charlotte and Carlo's complicated relationship is only one of several plot lines that initially appear separate and distinct, but intersect repeatedly and eventually merge with other story lines: of the opera singers, the soldiers, the Prince, and the darker threads of blackmail, betrayal, death, and damnation. And like an opera, the novel is not fast-paced, but that gives Burgis time to develop the major and secondary characters and to build a growing sense of unease—of something rotten at the core of the magnificence. The climax, too, is worthy of an opera, combining spectacle, danger, heroism, destruction, sacrifice, and both loss and triumph.
I recommend Masks and Shadows to readers who love historical fantasy, classical opera and music history, and/or Andrew Lloyd Webber's The Phantom of the Opera. It's going on my list of re-readable books, and that's high praise.
(Also, isn't that a gorgeous cover? So evocative, and an excellent interpretation of the novel.)
Related Posts