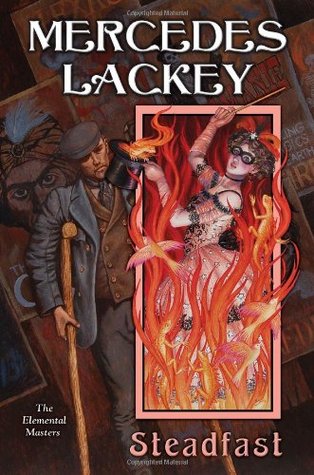 Steadfast Series: Elemental Masters #9
on June 4, 2013
Add to Goodreads



Also in this series: The Serpent's Shadow, The Gates of Sleep, Phoenix and Ashes, Home from the Sea, Elemental Magic:, Blood Red, From a High Tower, A Study in Sable

The new novel in Mercedes Lackey's bestselling series of an alternative Edwardian Britain, where magic is real—and Elemental Masters are in control.

Lionel Hawkins is a magician whose act is only partially sleight of hand. The rest is real magic. He's an Elemental Magician with the power to persuade the Elementals of Air to help him create amazing illusions. It doesn't take long before his assistant, acrobat Katie Langford, notices that he's no ordinary magician—and for Lionel to discover that she's no ordinary acrobat, but rather an untrained and unawakened Fire Magician. She's also on the run from her murderous and vengeful brute of a husband. But can she harness her magic in time to stop her husband from achieving his deadly goal?
Review
As you can probably guess from the title, Steadfast is a retelling — a very loose retelling — of Andersen's "The Steadfast Tin Soldier."  Katie Langford, a dancer and acrobat, is the paper maiden of Andersen's story.  Jack Prescott, the doorman at the theater where Lionel performs his magic shows, is Andersen's tin soldier, complete with missing leg — in Jack's case, lost in the Boer War.  And the book climaxes with a fire, just as Andersen's story does.  But there the resemblance ends.  Lackey draws inspiration from the characters but builds her own story for them to inhabit.
The book falls in Lackey's Elemental Masters series.  Both Jack Prescott and Lionel Hawkins are elemental mages, of Fire and Air respectively.  Katie, too, is a Fire mage, though she doesn't know it and appears unable to see the fire elementals around her. One thread of the plot focuses on Jack and Lionel's attempts to awaken and train Katie's magic.  This proves secondary to the greater problem: Katie's desire to free herself from her abusive husband.
Katie is a very believable character.  Her fear and distrust of men are understandable given her husband's brutality toward her.  At the same time, she has the courage not only to have left him, but to build a new life for herself.  She even dares to think of divorcing her husband, something both difficult and frowned upon in the late Victorian/early Edwardian period.  Katie is plucky, intelligent, and practical.  Yet the fear of discovery — that her husband might find and reclaim her — is ever-present in her mind.
Lackey doesn't shy away from the realities of domestic abuse and its effect on women.  British law of the time made a woman quite literally the property of her husband, who had the right to treat her however he wished, as long as he didn't kill her.  The scene in which Dick beats Katie is painful and chilling.
One of Lackey's weaknesses is that many of her villains are very one-dimensional, and Dick Langford is a prime example.  A circus strongman, he enjoys violence for its own sake, and often seeks it out.  We never get a sense of why he is so brutal; it is simply the way he is, and there isn't a lot else to him.  I was disappointed by that; he would have been a stronger and perhaps scarier character if he had more complexity.
I liked Jack and Lionel as much as I liked Katie.  Both are kind and decent, and Lionel has a good sense of humor.  I also really enjoyed finding out how a few of his magic tricks are worked.  Jack is more complex; he's burdened with guilt over the deaths of Boer women and children, whom the British army had rounded up in concentration camps with too little room, shade, water, and food.  The fact that he didn't participate directly in their treatment doesn't mitigate his sense of guilt at all.  While this is a minor subplot, it's an important one in Jack's development over the course of the book.
None of the three mages has a particularly strong talent, so the magic in this book is less spectacular than in some earlier books.  The danger to Katie is very real and in the latter part of the book immediate, but it's not magical; the story could as easily have been told without the magic elements at all.  And in fact, Lackey had to scramble a bit to explain why Katie couldn't just protect herself using her magic — although to do the author credit, her explanation made sense and showed the sense of moral right and justice that runs through all Lackey's books.  The final resolution owes more to a magical outside force than to the efforts or sacrifice of any of the three main characters.  It worked at the time, but felt a little deus ex machina in retrospect, especially since Lackey had never fully explored the relationship of that force to the characters.  (I'm being intentionally vague here to avoid spoilers.)
Bottom line: Steadfast is a solid but not inspired entry in the Elemental Masters series.  It reads well, the plot holds together, and the characters and situations are interesting. However, magic takes a bit of a back seat to the "issue" plot.
Related Posts