In the Dragon's Eye is where I share the books I've got my acquisitive eye on: the ones I'm really excited about and hope to read and perhaps add to the hoard. I also link to "Waiting On" Wednesday, hosted by Jill at Breaking the Spine. Cover links take you to Goodreads; all blurbs are also from Goodreads.
The Night Garden
Lisa Van Allen

Ballantine: Oct. 7, 2014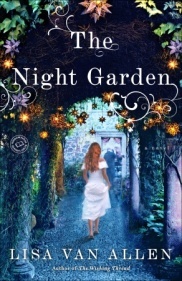 For fans of Sarah Addison Allen, Aimee Bender, and Alice Hoffman, The Night Garden is a luminous novel of love, forgiveness, and the possibilities that arise when you open your heart.

Nestled in the bucolic town of Green Valley in upstate New York, the Pennywort farm appears ordinary, yet at its center lies something remarkable: a wild maze of colorful gardens that reaches beyond the imagination. Local legend says that a visitor can gain answers to life's most difficult problems simply by walking through its lush corridors.

Yet the labyrinth has never helped Olivia Pennywort, the garden's beautiful and enigmatic caretaker. She has spent her entire life on her family's land, harboring a secret that forces her to keep everyone at arm's length. But when her childhood best friend, Sam Van Winkle, returns to the valley, Olivia begins to question her safe, isolated world and wonders if she at last has the courage to let someone in. As she and Sam reconnect, Olivia faces a difficult question: Is the garden maze that she has nurtured all of her life a safe haven or a prison?
Why I want to read it: Lisa Van Allen's magical-realism novel, The Wishing Thread, was one of my favorite books of 2013, so when I saw this book was coming out, I was really excited. Gardens and mazes and a touch of romance and perhaps a hint of magic (or perhaps not) — it sounds wonderful!
Related Posts