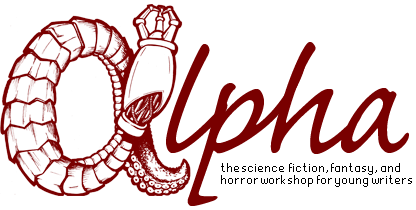 "Amazing." "Incredible." "Life-changing."  Those are just some of the ways Alpha graduates have described their experience, and it's true. I know, because our daughter Robin* attended not once, but twice.
Alpha is a workshop for teen writers of science fiction, fantasy, and horror. For eleven days, they attend interactive sessions with professional writers on many aspects of their craft; write, workshop, and revise a story of their own; and often submit that story for publication. Just as importantly, they meet, often for the first time, other kids who share their passion for writing.
I know just how life-changing Alpha can be for a young writer. Robin came home from the first session happier, more confident, and more excited than we had ever seen her. The Alpha guest authors and staff and her fellow students took Robin and her writing seriously. She interacted with professional authors for the first time (other than a few book signings.) She got to read one of her stories aloud at a bookstore event. And she discovered that she was not alone, that there were other people who shared her interests and understood the joys and frustrations of writing (as well as a lot of the same fandoms!)
Alpha students come from all over the U.S. and even from overseas. They are admitted on the basis of a story submission. The workshop fee is very reasonable, but it's still out of reach for many families. Alpha hopes to raise $5000 for scholarships to students who are accepted but can't afford the full tuition.
So would you like to support the next generation of SF/F writers? I'll be donating, in thanks for what Alpha did for Robin, and in hope that another teen can have the same life-changing experience. We were fortunate to be able to afford Alpha; there are lots of good budding writers out there who can't. Maybe one of them is the next Terry Pratchett, Anne McCaffrey, Robert A. Heinlein, or Tamora Pierce.
You can read more about Alpha, watch a video featuring last summer's students (including Robin!), and donate at the Alpha website. And if you are a young writer, or know someone who is, watch their home page for information about applying for next year's workshop (2016.)
*not her real name. She's the one with the long light-brown hair in the video.
Related Posts