The Sunday Post is a meme sponsored by Kimba the Caffeinated Book Reviewer. It's a chance to share news. A post to recap the past week, showcase books and things we have received and share news about what is coming up for the week on our blog.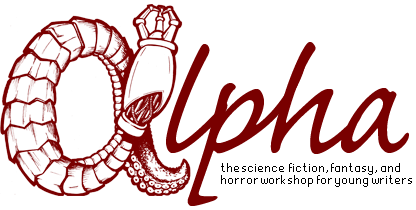 The most exciting news for this week is that our daughter "Robin" was accepted into this summer's Alpha workshop for teen writers of science fiction, fantasy, and horror. Only 20 writers are accepted each year, so she's in pretty elite company! The story she submitted was amazing. The workshop runs for 10 days; the kids will be working with four published authors, including Tamora Pierce and Scott Westerfeld. Robin is over the moon. When she got the email telling her she had been selected, there was much squealing and jumping up and down (and not all of it was hers.) This is so cool! (Pardon me, I'm just a little excited for her — can you tell?)
After the workshop, the students attend Confluence, a literary SFF convention in Pittsburgh. I think I might go, too. It's been several decades since I went to a con, and I miss them. I just hope I don't feel too out of place.
The past week on the blog:
The coming week:
Top Ten Tuesday: Top Ten Words/Topics That Instantly Make Me Buy/Pick Up A Book
News & Notes
reviews of Clockwork Mafia and The Apple Orchard
Challenges:
I'm joining the Clean Sweep ARC Challenge for May, hosted by Kimba the Caffeinated Book Reviewer and Kimberly at The Windy Pages. The challenge is to read as many ARCs as possible during the month of May. (Reviews don't have to post during May.) Since I have (ahem) about 12 e-ARCs and review copies in-house at the moment, and a hefty indexing project scheduled for mid-May, I'd better get cracking!
I'm also still participating in the NetGalley Challenge sponsored by Red House Books. I read the following NetGalley ARCs or review copies in April (so far — there are still a few days to go before the end of the month!):
Not too bad, I guess, but I hope to do a little better in May. That might prove difficult, though, with the aforementioned indexing project.
New arrivals:
For Review:
Bought:
I've been concerned about bees for a while. Bees are crucial to our food supply, and they are under threat from pesticides and Colony Collapse Disorder. When the ebook went on sale at Kobo and elsewhere, I grabbed it.
I picked up four more books from the library booksale (for a total of $0.50! They have dollar-a-box day on the last day of the sale.) I didn't take a photo to show you this time, but the titles are The Family Trade (fantasy by Charles Stross), Jacquard's Web (a book about how the Jacquard loom led to the computer industry, by James Essinger), Ancestors of Avalon (Diana L. Paxson), and The Body in the Bookcase (a mystery by Katherine Hall Page.) Doesn't the latter sound irresistible?
Freebies:
I wish you all a very peaceful, happy week of reading!


Related Posts