News & Notes
is a weekly Saturday post featuring book- and publishing-related
news, links to interesting articles and opinion pieces, giveaways on this and other blogs, and other cool stuff.
Books & Ebooks in the News:
BEA News:
Worth Reading/Listening to:
"The sad reasons why Amazon's #1 reading city doesn't belong on the list" is really a look at the library crisis in Alexandria, Virginia, and elsewhere. David Rothman rightly points out that book-buying habits only reflect the reading habits of the haves; the have-nots are often dependent on libraries whose funding is shrinking. (LibraryCity)
William Giraldi's polemic against 50 Shades of Gray, a recent scholarly analysis of it, and romance in general will probably enrage many of my readers (as it did me) for the intellectual snobbery, ignorance of the genre, and sheer misogyny that he displays. (The New Republic)
Author Eloisa Jame's defense of the romance genre refutes Giraldi's argument, but does so with a faint air of the same intellectual superiority that he displays — which surprised me. Her statements that "The women buying romance don't give a damn what is said in The New Republic. They've never even heard of it" and "I have a huge amount of respect for my readers, who are not versed in intellectual language but who do very much the same kind of thinking and analysis" both left me a little sad. Hey, Ms. James, I know what The New Republic is, and I'm certainly versed in intellectual language. I took more than a few literature courses in college. I'm sure I'm not the only romance reader of whom that is true. (Vulture)
But then there's Bobbi Dumas's response in Kirkus, which is a positive and unapologetic defense of romance as well as a riposte to Giraldi and his ilk — with lots of useful links.
And there's Alyssa Rosenberg's wonderful response in the Washington Post, in which she points out the problematic nature of many of the classics for women — lack of agency being foremost.
For Writers & Bloggers:
Literary Losses:
Maya Angelou, the celebrated author, poet, and activist, died Wed., May 28. She was 86. Her strength, spirit, and creativity won the respect of people throughout the world. Rather than try to encapsulate her life and work, I'm just going to point you to a few of the better obituaries I've found: Time, The Guardian, The Washington Post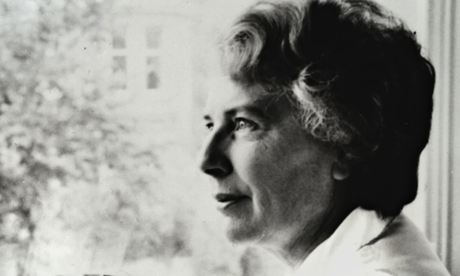 Mary Stewart. Photo: Hodder and Stoughton (publishers)
Mary Stewart, the author who pioneered romantic suspense featuring intelligent, capable young women before turning her talents to Arthurian myth and Romano-Celtic history, died May 9, aged 97. I know that's several weeks ago, but Stewart had a huge impact on me, both through her romantic suspense and her Arthurian saga. Angie of Angieville wrote a brief but lovely tribute to Stewart a few weeks ago, which echoes my own experience. For the facts of Stewart's life and career, you can't do better than The Guardian's affectionate and detailed obituary.
Requiescat in pace, lovely ladies, and thank you both for your wonderful work.
Free & Bargain books:
This week's free SYNC audiobooks are Confessions of a Murder Suspect (James Patterson and Maxine Paetro; read by Emma Galvin) and The Murder at the Vicarage (Agatha Christie; read by Richard Grant.) Both feature female detectives, but one's a teen with memory loss and one's a deceptively fluttery elderly spinster with the razor-sharp mind of a Holmes. You'll need the Overdrive Media Console to download them but the plus side is, they never expire.
Awesome lists:
25 Bookish Quizzes collected by BookRiot.
Adoption in YA Lit pairs older and newer titles about various aspects of adoption. (YALSA's The Hub. Thanks to BookRiot, whose tweet pointed me toward this one.)
Amazon's 10 Summer Blockbusters You Should Read (via Huff Post) Hey, it includes Deborah Harkness's The Book of Night and the new Harry Dresden novel, along with new books or sequels by a bunch of other big names (Diana Gabaldon, Cassandra Clare, Janet Evanovich, Daniel Silva, James Patterson, etc.)
Really cool:
A poem which points out the chaos which is English pronunciation. (tickld.com) A sample couplet: "Billet does not rhyme with ballet; bouquet, wallet, mallet, chalet." It goes on (and on) for 112 lines. Read it aloud (and try a British accent.) If you can pronounce every word correctly, you're amazing. (I got most of them, but "groats" tripped me up.)
Just for fun:
Cat paws in a fifteenth-century manuscript
(photo taken at the Dubrovnik archives by @EmirOFilipovic)
Bookish Quotes:
image by thereadables.tumblr.com
That's it for this week!
I'm always on the lookout for interesting articles, lists, and links for News & Notes, so please let me know if you see (or write!) anything that might be good for this feature. You can leave me a comment or send me an email — my address is on the About/Review Policy/Contact page.
Related Posts