The Sunday Post is hosted by the wonderful Kimba, the Caffeinated Book Reviewer. It's a chance to share news, recap the past week, take a look ahead, and showcase our new treasures—I mean books!
 My Week
I hope you all had a wonderful Valentine's Day, or Galentines Day, or just a great week!  Between both our jobs, we didn't go out for Valentine's Day, but exchanged heartfelt cards and had a long and lovely call from Robin. Last night we went out to dinner with some friends from the church we've been going to, plus the priest and a visiting priest. It was a good evening.
I'll be working most of today, but hope to pop around to visit you all later in the week.
Last Week on the Blog
Sunday Post –2/17/2019 – this post
Upcoming on the Blog
Top Ten Tuesday – tentative
WIP Wednesday – tentative
reviews to be determined
News & Notes – 2/16/2019- tentative
Sunday Post –2/17/2019
What I'm Reading/Watching
I know what you're thinking: this is a lot of books! On the one hand, it feels good to be reading again (or at least rereading), after January's major slump. On the other hand, insomnia also has its price…
I finished rereading Jayne Castle's Ghost Hunters/Harmony series and started on the Arcane Society (same author, but under all three of her names.) I find these are very quick reads, especially on the third or fourth go-round, as it was for some of the titles.
I'm also reading The Victory Garden by Rhys Bowen and A Stash of One's Own, edited by Clara Parkes. It's a collection of essays by knitters about their yarn stashes (or lack thereof), and more generally their relationships with yarn. I know that doesn't sound very interesting, but trust me—to a knitter, it does! And I'm almost finished listening to Founding Mothers: The Women Who Raised Our Nation by Cokie Roberts.
New Additions to the Hoard
Cover links take you to Goodreads or my reviews.
Library Books
So technically, these came in last week, but I didn't post a photo of them because I didn't think I'd have time or energy to read them… but if I can renew any of them, I may be able to.
Purchased for Kindle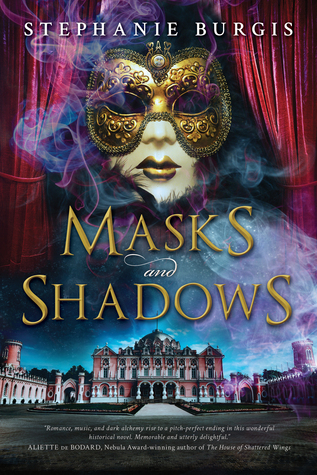 I read and reviewed Masks and Shadows as an ARC in 2016, around when it came out. I loved it, and would happily reread it again, so when it went on sale for Kindle, I was delighted. But I managed to resist purchasing any other Kindle books this week.
Have a great week, and happy reading!
Related Posts