The Sunday Post is a meme hosted by the wonderful Kimba, the Caffeinated Book Reviewer.
It's a chance to share news, a
post to recap the past week, showcase books and things we have received and
share news about what is coming up for the week on our blog.
Still indexing, still working hard, still barely have time for the blog. I love that I'm getting plenty of work, but I wish I were better at balancing everything I enjoy doing.
Robin is off to
Alpha
again – that's the writing workshop for teen writers of SFF and horror. The teachers this year are Tamora Pierce (again – yay!), Bruce Coville, Tobias Buckell, and Rachel Swirsky. Robin is really excited to have gotten in again. If she has half as much fun as last time, and learns half as much, it will still be an incredible 10 days!
Last Sunday, I reached a milestone: 100 followers on Bloglovin! I'm really excited. I realize that's not a lot to some of you, but it sure feels good. Thank you to everyone who is following me, whether on Bloglovin, GFC, or anywhere else — you're all terrific! Especial thanks to those of you who left such glowing, supportive comments on the Cress review this week. [blushes] I was overwhelmed… I feel like Sally Field: "You like me! You really like me!"
I also added a new occasional feature to the blog this week: The Bookwyrm Wonders. It's a place for me to ponder and ask questions about the things that puzzle me, whether bookish or bloggish. And I've revived In the Dragon's Eye, which will usually appear on Wednesdays, linked to Waiting On Wednesday.
Last week on the blog: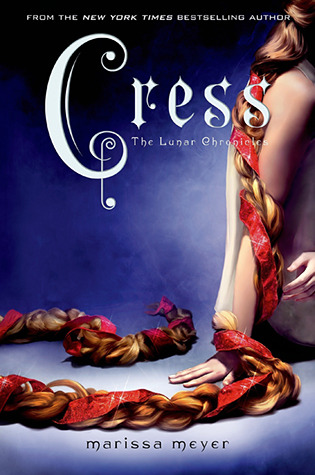 The coming week:
Mon. 7/28/14: Until We Touch by Susan Mallery (review) (tentative)
Tues. 7/29/14: Ten Authors I Own the Most Books From (Top Ten Tuesday)

Wed. 7/30/14:

In the Dragon's Eye (W.O.W.)
Thur. 7/31/14: Challenge Update – July 2014 – checking in at (past) the half-way point!
Fri. 8/01/14: The Late Scholar by Jill Paton Walsh (review) (tentative)
Sat. 8/02/14: News & Notes – 8/02/14
New additions to the hoard:
(Cover links go to Goodreads)
For review:
Absolutely nothing! That's good right now, as I'm trying to catch up on review books.
Bought or free for my Kindle:
I'm still trying to keep my book purchases to a minimum, but both of these are favorites of Robin's and mine, and they were on sale for $1.99, so I snagged them. It's always good to have old favorites in my Kindle when I'm headed for a vacation. (Assuming I have time to read with all the work I have to bring with me!)
Related Posts