Top Ten Tuesday is a weekly feature/meme hosted by The Broke and the Bookish. This week's topic is a Read in One Sitting theme.
I read quickly, and when my eyes were younger, I used to read even more quickly than I do now. Back when it was easier for me to find (or steal) an entire afternoon or evening to read, I very often finished books in a single sitting. . . especially mysteries, romances, and YA fantasy—many of which tend to be shorter, easier to read, or both. Even now, I still devour books in one sitting when I can find the time. Often it has less to do with the quality of the book itself than with my need to escape the world for a while, and how much "other stuff" I need to accomplish that day.
Recently, given the press of "stuff to do," it seems I do most of my reading late at night, so I'm more likely to break a book into two sittings. And I find I have more patience than I used to, and a greater ability to defer finding out what happens until the next evening. If you follow my Goodreads feed, you'll notice that a lot of the books I read are started one day and finished the next—because I often don't start reading until after 10:30 or 11:00 pm.
That said, here are some books I couldn't put down: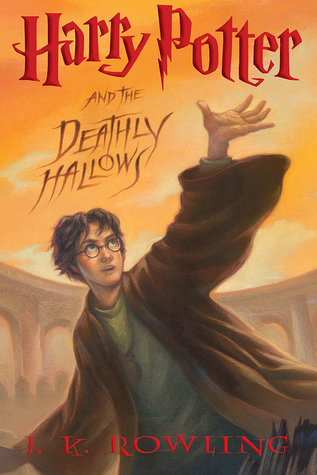 The Beekeeper's Apprentice (Laurie R. King).  If I recall correctly, the first time I read it, I was lost for an entire afternoon, my whole attention centered on Mary Russell, Sherlock Holmes's delightfully unexpected apprentice, and her progression from apprentice to partner.  (series review)
Harry Potter and the Deathly Hallows (J. K. Rowling). OK, raise your hands: how many of you read this in one fell swoop, the day it came out? We were visiting my parents. I preordered my copy so it would arrive at their house on the release date, and commissioned my sister, who went to the midnight release party, to pick one up for our daughter. (It was too late for us to get tickets to the party, darn it.) Robin started reading at 6 am; I started around 10 when my copy arrived, and we both finished the book by mid-afternoon, as did my sister and my nephew. And then we had to wait a whole day to discuss it because my niece hadn't finished it yet!
Cinder (Marissa Meyer). Science fiction fairytale retelling with an unforgettable heroine—this book was really impossible to put down. Thank goodness I had the time to spare to keep reading!
The Martian (Andy Weir). I read it in a single sitting, in part because we were going to the movie the next day and I wanted to read it first. But it was a quick and compelling read; I would have kept turning the pages even without the looming deadline of the movie.
Shadows (Robin McKinley). Shadows took me by surprise: it was so different from what I expect from her, and at the same time, so quintessentially McKinley. I couldn't put it down—and I didn't have to, as this YA fantasy moves quickly and McKinley's prose is such a pleasure to read.
River Road (Jayne Ann Krentz). The headline for my review reads "River Road kept me up 'til two." But the fact is, most Krentz books will keep me up and reading far into the night… not that they take me all that long to read: two or three hours at the very most. They're suspenseful, fast-moving, exciting, and pretty easy to read. Secret Sisters is another I read in one fell swoop.
'Til Death Do Us Part (Amanda Quick) also kept me reading late into night. Not surprising, since Quick is actually Jayne Ann Krentz. Her books as Jayne Castle tend to fall into this category as well.
The Corpse with the Garnet Face (Cathy Ace). Tightly plotted and well told, Ace's Cait Morgan mysteries are engrossing as well as entertaining. And her W.I.S.E. Enquiry Agency books are fun, too.
Actually, a lot of my other favorite (living) authors fall in the "read in one sitting if I can spare the time" category, whether because they're quick to read, or fast-paced and suspenseful, or simply because I love to lose myself in the worlds they create:  Nancy Atherton, Mary Balogh, Hannah Dennison, Jessica Day George, Lisa Kleypas, Mercedes Lackey, Julia Quinn, Emily March, Tamora Pierce, Mary Jo Putney, Deanna Raybourn, Nora Roberts… I'm sure I've left out quite a few, but you get the idea. For me, reading in one sitting is my ideal, and one I can usually manage if I can find the time and the book isn't, you know, 900 pages long or something!
Related Posts