Top Ten Tuesday is a weekly feature/meme hosted by The Broke and the Bookish. This week's topic is Top Ten Books from My Childhood or Teens That I Would Love to Revisit.
I have always been a re-reader. Even as a child, I read so fast and so much that I couldn't take enough books out from the library to feed my habit. And besides, familiar books are comforting, and as a child who sometimes found the world an anxious and unpredictable place, that comfort was something I needed.
I've also never understood the concept of "growing out of" good books. Sure, I did eventually grow out of some books, but they were, for the most part, not my favorites, and not great children's literature either. These, on the other hand, I never grew out of. I may have read them first in my childhood or early teens, but they still appeal to me, because they still have something to say. . . and because they still carry that feeling of familiarity and comfort.
I've left out books I didn't discover until high school (like Susan Cooper's Dark is Rising books or McCaffrey's Pern series). These are the books I fell in love with in elementary and middle school.  In no particular order:
The Chronicles of Narnia (C. S. Lewis) I have my favorites in this series, assuredly, and I've never been terribly fond of The Last Battle, but taken as a whole, this series was my introduction to fantasy as well as to allegory. I still re-read most of them every few years.
The Time Quartet (Madeleine L'Engle) To be honest, it's really just the first three books in this series: A Wrinkle in Time, A Wind in the Door, and A Swiftly Tilting Planet. They are so wonderful, and so rich and deep, that it almost surprises me that they're thought of as MG/YA books.
The Anne of Green Gables series (L. M. Montgomery), right up through Rilla of Ingleside. Anne and I were kindred spirits from the moment I first met her, and we've remained fast friends ever since.
Linnets and Valerians and The Little White Horse (Elizabeth Goudge) My mother bought these for me while we were traveling in England when I was in 5th grade, because she loved Goudge's books for adults. I fell in love with both titles, and never fell out. They are delightful, magical books. (Don't be confused by my linking them together – they are standalones and not very similar to each other.)
The Secret Garden and A Little Princess (Frances Hodgson Burnett) I can't choose between these two lovely classics, and in fact, I often reread them in close proximity to each other. I was sometimes lonely as a child, and had an absent father, so I suppose I related to and found hope in Mary Lennox and Sara Crewe.
Little Women (Louisa May Alcott) Another classic, and deservedly so. I'm also fond of Eight Cousins, A Rose in Bloom, Jo's Boys, and An Old-Fashioned Girl, but I think Little Women is the best and most moving of all of them.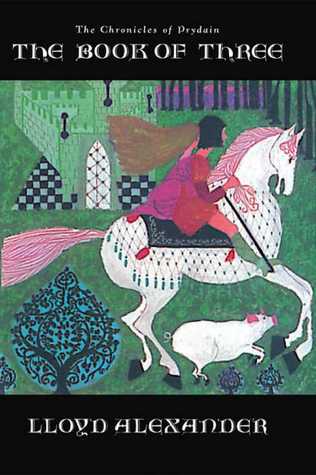 The Chronicles of Prydain (Lloyd Alexander) Once I fell in love with Narnia, I began clamoring for more fantasy, and Alexander's series featuring an assistant pig-keeper, a talkative princess, magic and high adventure was the first to come my way. They should still be required reading for young (and older) fantasy lovers.
The Melendy Quartet (Elizabeth Enright) The Saturdays, The Four-Story Mistake, And Then There Were Five, and Spiderweb for Two are charming, warm, often funny stories about a family of resourceful and relatively independent children, well worth revisiting.
The Witch of Blackbird Pond (Elizabeth George Speare) One of only two books I read as a child that contained a Quaker character (the faith in which I was raised.) I also related to Kit in many ways, and admired her near-fearlessness, so I had more than one reason to love this book. (In case you're wondering, the other book was Beyond the Weir Bridge by Hester Burton, and I revisit it occasionally, too.)
The Swallows & Amazons series (Arthur Ransome) Especially Swallowdale and We Didn't Mean to Go To Sea, which I picked out on that same trip to England where I first encountered Elizabeth Goudge's books. Like the Melendy quartet, the Swallows & Amazon books are about a family of very independent, resourceful children and their friends, who camp out by themselves and sail up and down Lake Windermere having adventures – and once, by accident, sail clear across the Channel to Holland.
The Lord of the Rings  (J. R. R. Tolkien) I've added this with some hesitation because it's not a children's book, but I read it first the summer after 5th grade, and read it once or twice a year for the next 15 years. Since my early thirties, I've read it at least every two or three years. It's a huge part of my childhood and young adulthood, and influenced both my worldview and my reading tastes, yet somehow it feels odd to class it with the others in this list.
Related Posts