Top Ten Tuesday is a weekly feature/meme now hosted by That Artsy Reader Girl. The meme was originally the brainchild of The Broke and the Bookish. This week's topic is Upcoming New Releases I'm On the Fence About .
There are plenty of upcoming books I'm excited about, and then there are the books I'm a little uncertain about. There's something that each one that attracts me, but for each book, there's also at least one reason I'm not jumping up and saying, Take my money PLEASE!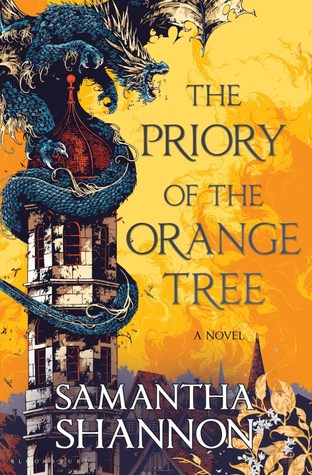 The Priory of the Orange Tree by Samantha Shannon. "…an enthralling epic fantasy about a world on the brink of war with dragons–and the women who must lead the fight to save it." And Booklist says, "Spellbinding . . . This extraordinary saga includes heroism, romance, friendship, pirates, plague, diplomacy, and, of course, dragons . . . with broad appeal for fans of the epic and readers of Zen Cho, Naomi Novik, and V. E. Schwab. Highly recommended."
Why I'm unsure: This book by the bestselling author of The Bone Season is getting a lot of hype. And it's epic fantasy, and it's recommended for fans of Naomi Novik. (That would be me.) And there are DRAGONS. To tell you the truth, I'm not even sure why I'm holding back. But I think I'll see what some of my favorite authors and reviewers think before I jump on this one.
The Near Witch by Victoria Schwab. (March 12, 2019) The Near Witch was Schwab's debut novel; it's being re-released this spring.  "'The Near Witch' is only an old story told to frighten children. If the wind calls at night, you must not listen. The wind is lonely, and always looking for company. There are no strangers in the town of Near. These are the truths that Lexi has heard all her life. But when an actual stranger, a boy who seems to fade like smoke, appears outside her home on the moor at night, she knows that at least one of these sayings is no longer true. The next night, the children of Near start disappearing from their beds, and the mysterious boy falls under suspicion. As the hunt for the children intensifies, so does Lexi's need to know about the witch that just might be more than a bedtime story, about the wind that seems to speak through the walls at night, and about the history of this nameless boy."
Why I'm unsure: On the surface, there's no reason not to be excited about this book. I mean, it's V. E. Schwab, it's fantasy, and there's a bit of a romance. (Although you can't tell from that blurb, the professional and Amazon reviews make it clear there's a romance.)  But… um… maybe I should finish reading A Shade of Darker Magic and its sequels first? Since I already have them and all?
Sherwood by Meagan Spooner. (March 19, 2019)  After word comes that her fiance, Robin of Locksley, was killed fighting alongside the King in the Holy Land, Maid Marian takes up his mantle, literally and figuratively.
Why I'm unsure: On the surface, a genderbent Robin Hood tale starring Marian sounds great. But Robin Hood retellings have been a dime a dozen in the five or ten years, including Marian-as-Robin, and not all of them have been well-written. Plus, I'm weary of oft-used tropes in YA, and particularly of the explosion of first-person present-tense narrative, which I'm not a huge fan of unless it's done really well. So I will wait to see what reviewers and bloggers say about this one before I invest my time or money in it.
The Girl He Used to Know by Tracey Garvis Graves.  (April 2, 2019)  Two members of a college chess club meet again, a decade after an unexpected tragedy tore them apart. Now they have a second chance at love.
Why I'm unsure: I'm on the fence about this one because I know very little about the author, and lately I've been leaning more toward fantasy, mystery, and romantic suspense than contemporary romance or "women's fiction." (I hate that label.) On the other hand, the female character was a chess whiz, is a librarian, is very much an introvert, and may have high-functioning autism (it's hard to tell from the blurb), and all of that is appealing to me.
Time Sight by Lynne Jonell. (May 5, 2019) "Castles, battles, the ancient Scottish Highlands, and a boy who is determined to bring everyone safely home combine in this absorbing middle grade time-travel adventure."
Why I'm unsure: That sounds fun, but one reviewer says, "The book struggles to strike the right tone, constantly flipping back and forth between a jolly adventure to deep dives into themes of the psychological impact of trauma, mankind's tendency towards violence, and sudden intervals of intense religiosity," which sounds a bit intense for a middle-grade book. On the other hand, castles, the Scottish highlands, and time travel make for a very enticing mix.
The Dark Fantastic by Ebony Elizabeth Thomas. (May 21, 2019) "The Dark Fantastic is an engaging and provocative exploration of race in popular youth and young adult speculative fiction. Grounded in her experiences as YA novelist, fanfiction writer, and scholar of education, Thomas considers four black girl protagonists from some of the most popular stories of the early 21st century: Bonnie Bennett from the CW's The Vampire Diaries, Rue from Suzanne Collins's The Hunger Games, Gwen from the BBC's Merlin, and Angelina Johnson from J.K. Rowling's Harry Potter. Analyzing their narratives and audience reactions to them reveals how these characters mirror the violence against black and brown people in our own world."
Why I'm unsure: The subject is one I'm deeply interested in—not only the paucity of POC representation in speculative fiction, but the nature of that representation where it does appear. On the other hand, this is nonfiction and looks to be fairly scholarly… in other words, the sort of book I read for my job, rather than the sort I turn to for fun when I'm not working. Despite that, I'll probably read it if and when I can get hold of a copy. (And I wish I'd had the opportunity to index it.)
Under Currents by Nora Roberts (July 9, 2019)  Zane and his sister appear to have the perfect family, but looks can be deceiving. "As his father's violent, controlling rages—and his mother's complicity—become more and more oppressive, Zane counts the years, months, days until he can escape. He looks out for little Britt, warning her Be smart. Be careful." Until one night when it all comes apart. As an adult, Zane "will find that while the darkness of his past may always shadow him, it will also show him what is necessary for good to triumph—and give him strength to draw on when he once again must stand up and defend himself and the ones he loves."  
Why I'm unsure: I'm on the fence about Under Currents because I usually love Nora Roberts, but I really don't do well with dangerously dysfunctional families in which children are powerless victims. (Not out of personal experience, I hasten to add. I had loving parents who, though they divorced when I was young, were always civil both towards and about each other.) This book could really trigger my anxiety… or I could be fine. There's no way to know without at least flipping through it.
The Harp of Kings by Juliet Marillier. (September 3, 2019) The first book in the Warrior Bards series follows 18-year-old Liobhan and her brother, both talented musicians.  "But Liobhan's burning ambition is to join the elite warrior band on Swan Island. She and her brother train there to compete for places, and find themselves joining a mission while still candidates. Their unusual blend of skills makes them ideal for this particular job, which requires going undercover as traveling minstrels. For Swan Island trains both warriors and spies. Their mission: to find and retrieve a precious harp, an ancient symbol of kingship, which has gone mysteriously missing."
Why I'm unsure: Marillier is a marvelous writer of both adult and YA fantasy, and her books are infused with myths and legends, mostly Celtic. It's a foregone conclusion that The Harp of Kings will be at least good, and probably more than good. So why am I on the fence? Because I'm so far behind on Marillier's backlist that I feel guilty about starting a whole new series. I've got at least seven unread books by Marillier on my physical bookshelves, and more on my to-read list. I really should read the ones I own before investing in a new series.
Related Posts