The Sunday Post is hosted by the wonderful Kimba, the Caffeinated Book Reviewer. It's a chance to share news, recap the past week, take a look ahead, and showcase our new treasures – I mean books!
My Week

Mr. Bookwyrm was on travel all week, but I kept busy anyway. I spent several days building a website for my indexing business. I've wanted to do that for a while, but kept procrastinating because I didn't know where to start. I finally just sat myself down and wrote up some marketing material, then got online and picked a clean, simple, free WordPress theme. I hunted around and found a good header image that was free for commercial use — and laughed when I realized I'd picked the same one that the preview theme used, only theirs was black and white and mine is (subdued) color. Then I had to teach myself how to change the home page to a static page instead of a blog; set up an "About me" and "Contact" page, find a contact form plugin and create a contact form. I learned a lot, and I was very grateful for everything I've learned about WordPress and html while I was blogging. I'm pretty satisfied with the end result, though I've got a few additions planned — a list of clients and a sample list of books I've indexed.
I also cashiered for the library booksale for most of an afternoon (and managed not to buy any more books — though I did get a knitting pattern.) Oh, and I got my hair cut, and got my new glasses adjusted to fit more comfortably, so I can actually wear them. Mr. Bookwyrm got home Friday night, and Saturday we went to a friend's housewarming party.  All in all, a good week despite spending most of it on my own.
 Last Week on the Blog
Lory H. is the winner of The Murder of Mary Russell giveaway! Congratulations, Lori!
The giveaway for "An Unhappy Medium" ends Monday night!
Upcoming on the Blog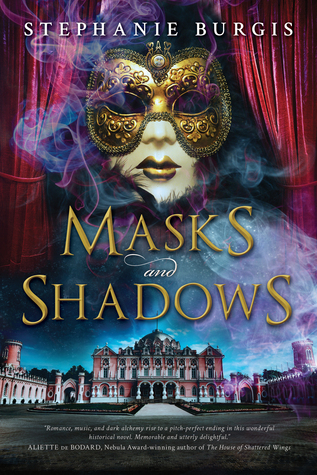 Mon. 4/25:  Flawless (Heather Graham)
Tues. 4/26: Top Ten Bookwyrm Delights — tentative
Wed. 4/27: In the Dragon's Eye: League of Dragons
Thur. 4/28: Masks and Shadows (Stephanie Burgis) — tentative
Fri. 4/29: Clean Sweep ARC Challenge — sign-up & goals
Sat. 4/30: News & Notes 4/30/16
Sun. 5/01: Sunday Post 5/01/16
What I'm Reading/Watching
I finished Riverbend Road (RaeAnne Thayne, ARC) and read Masks and Shadows (Stephanie Burgis, ARC), Haunted Destiny (Heather Graham, ARC), and Heart of Evil (Heather Graham, backlist). I also reread The Blue Hills by Elizabeth Goudge, in honor of her birthday today. And I've started the first in what so far looks to be a great new cozy series, Crime and Poetry by Amanda Flower (Magical Bookshop series; library.)
In audio, I finally finished listening to the Great Courses lecture series on Great World Religions: Judaism — it was very good. I've started the Great World Religions: Christianity course, which is equally good so far.
New Additions to the Hoard
Cover links take you to Goodreads.
 For Review or Review Consideration
Many thanks to Berkley and Harlequin!
Purchased for Kindle
I haven't read any of these except Named of the Dragon, which I read as an ARC. (my review) I gave my old paperback to my mom, so I didn't have a copy anymore, and I'm pretty sure I'll want to re-read it again someday. Shakespeare's Wife is nonfiction, and looks good; I've always wished we knew more about Ann Hathaway.
From the Library
I wish you all a terrific week, and happy reading!
Related Posts