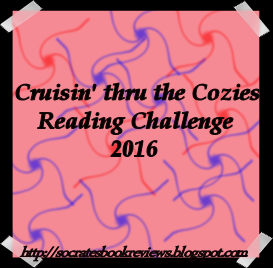 As I have for the last three or four years, I'm signing up for the Cruisin' Thru the Cozies Reading Challenge 2016 hosted by Yvonne at Socrates' Book Reviews. I know I said I'm cutting back on challenges this year, but I've done this one for several years now, and I always enjoy it. It's a low-pressure challenge, and I've even dialed my goal back this year. I'll be going for the Super Sleuth level: 13-20 books.
Yvonne leaves the interpretation of "cozy" up to the reader/reviewer, and there's no monthly check-in, just a single page where you sign up and leave your reviews. (Be careful to add reviews to the review linky, not the sign-up linky.) She makes it so easy, I have every confidence that I can complete this challenge!
Actually, half the fun for me is reading other people's reviews and discovering new mystery authors. That's partly how I became interested in Tasha Alexander over the last few years. So if you like cozies or just mysteries in general, why not join the challenge?
Here's how I'm doing so far:
Cruisin' Thru the Cozies 2016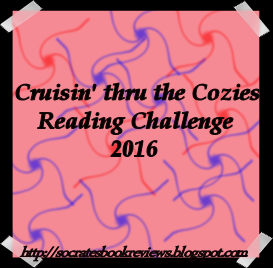 Host: Socrates\\\' Book Reviews
Progress: 21/13 (162%)
1 January, 2016 — 31 December, 2016
Completed!
Related Posts