The Sunday Post is hosted by the wonderful Kimba, the Caffeinated Book Reviewer. It's a chance to share news, recap the past week, take a look ahead, and showcase our new treasures – I mean books!
My Week
I was so swamped trying to finish the index this week, Mr. Bookwyrm took the afternoon off to cashier for the library's summer booksale in my stead so I could keep working. Ergo, no book haul (at least from the sale.) But I got the project done! I turned my project in on Friday, and now I'm free for at least two weeks!
That's good, because we need to get ready for our summer travels. We'll be heading to Mammoth Cave National Park later this month. So this coming week, I'll be doing laundry, making lists, packing food-clothes-bedding-etc., shopping for non-perishables… you know the drill. I just hope I can find the hiking pants I mislaid somewhere! Not that I plan to do any real hiking… given the heat and humidity and my general out-of-shape-ness, I plan to stick to gentle strolling. At least it will be cool inside the caves.
Last Week on the Blog
Don't miss the current giveaways:  When a Scot Ties the Knot;  Two Cozy Mysteries (see sidebar)
Upcoming on the Blog
What I'm Reading/Watching
Reading: I read Daughters of the Bride (Susan Mallery; ARC),  Fridays With the Wizards (Jessica Day George; library), and Bay of Sighs (Nora Roberts; purchased.) I started A Darker Shade of Magic (V. E. Schwab) for the Make Me Read It readathon, but I was so stressed with work that I haven't finished it yet. Instead, I reread some favorite historical romances. I'll work on finishing ADSOM over the next week or two.
Listening: I made a little progress on Bill Bryson's Made in America while washing dishes and doing laundry, but Great World Religions: Islam is still on hold.
Watching: I watched two Poirot mysteries this week ("The Hollow" and "The Mystery of the Blue Train"), but other than that, I've been too busy for TV.  I do want to get back to Avatar: The Last Airbender, though—I want to finish season 2 before Robin goes back to college!
The Make Me Read it Readathon ended yesterday! And…I utterly tanked. I thought, when I signed up, that I would be done with work by the beginning of the week. Instead, it was Friday evening, and I had a lot of running around to do on Saturday, so I haven't finished even the first book yet. But don't worry! I do plan to read all of these, hopefully by Christmas.
A Darker Shade of Magic (V. E. Schwab) – started
A Court of Thorns and Roses (Sarah Maas)
Shades of Milk and Honey (Mary Robinette Kowal)
Unbound (Jim C. Hines)
The Slow Regard of Silent Things (Patrick Rothfuss)
The Thief (Megan Whalen Turner)
New Additions to the Hoard
Cover links take you to Goodreads.
For Review or Review Consideration
Many thanks to Minotaur, Berkley, and Harlequin MIRA! Aren't the covers beautiful? Especially the first two.
Purchased for Kindle
All of these were on sale when I bought them. I've read Artists in Crime but Marsh is one of my favorite mystery authors, so of course I wanted a copy for my Kindle. And I read and reviewed Haunted Destiny as an ARC.
From the Library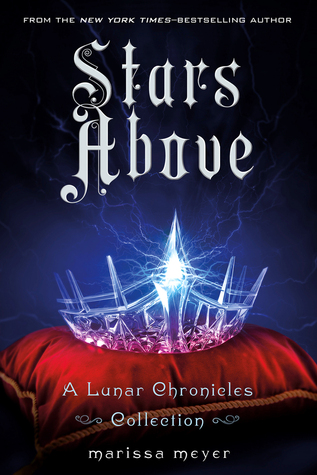 Happy reading!
Related Posts