The Sunday Post is hosted by the wonderful Kimba, the Caffeinated Book Reviewer. It's a chance to share news, recap the past week, take a look ahead, and showcase our new treasures – I mean books!
My Week

It was a relatively quiet week. I spent most of it working on the concert program, the blog and the house. The kitties went back to the vet for a check-up and they are both doing a little better. They go back for a recheck in a month, unless we see problems earlier than that.
Robin is headed into her last week of classes. She's mostly done for the semester. At her college, most courses don't have exams; instead, the students write papers, do projects, and give presentations. She has one paper, one project, and one presentation left; the others were last week. She'll be visiting her friend and roommate Owl during the first week of summer break; she gets home at the end of next week (the 13th.) We can't wait to see her!
 Last Week on the Blog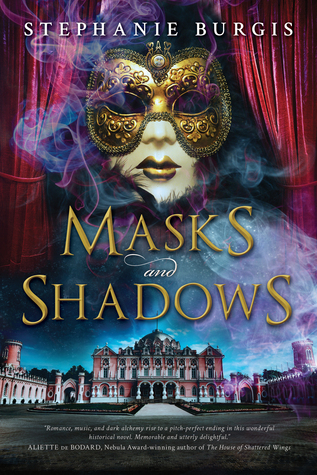 Upcoming on the Blog
Tues. 5/03: Ten Characters I'd Love to Revisit As Adults
Wed. 5/04: A Killer Ball at Honeychurch Hall (Hannah Dennison) — tentative
Thur. 5/05: Crime and Poetry (Amanda Flower) – review
Fri. 5/06: Wishing Day (Lauren Myracle) — tentative
Sat. 5/07: News & Notes 5/07/16
Sun. 5/08: Sunday Post 5/08/16
What I'm Reading/Watching
I finished Crime and Poetry by Amanda Flower (Magical Bookshop series; library), and loved it! I also read A Killer Ball at Honeychurch Hall (Hannah Dennison, ARC — it's fun) and A Buccaneer at Heart (Stephanie Laurens, Kindle purchase), which I read mostly out of loyalty. (Laurens hasn't been up to par for a while.) And I plowed through Sarah Morgan's third Puffin Island book, One Enchanted Moment (Kindle purchase) which I really liked. Now I'm in the middle of Wishing Day (Lauren Myracle), a MG book that so far appears to be magical realism.
In audio, I'm three quarters of the way through the Great World Religions: Christianity course, which is excellent. In TV, I finished the first season of Avatar: The Last Airbender, an animated kids' show that is surprisingly good. (Robin got me onto it.) And we've watched a few more episodes of Poirot; we're now in season 5.
New Additions to the Hoard
Cover links take you to Goodreads.
 For Review or Review Consideration
Many thanks to DAW!
Purchased for Kindle
I bought the Harlequin two-in-one. for One Enchanted Moment by Sarah Morgan (book #3 in the Puffin Island series). I don't know whether I'll ever read the Lori Foster title. And I've already read the two Katherine Kurtz books, but I love the series, so I bought them on sale, too.
From the Library
I wish you all a terrific week, and happy reading!
Related Posts