The Sunday Post is a meme sponsored by the wonderful Kimba, the Caffeinated Book Reviewer. It's a chance to share news. A post to recap the past week, showcase books and things we have received and share news about what is coming up for the week on our blog.

Another week of working on the index; I'm a little behind where I want to be, so I'll be working hard this weekend and the coming week. I'm a little blue because I'm missing my 30th college reunion this weekend, in part because of the index. But the work — and the income! — is very welcome.
Our daughter had her last violin recital with her beloved teacher on Thursday. Rather than have the advanced violin students play individual pieces, Mrs. R had them focus on their music for their chamber music group. They played Vivaldi's Concerto Grosso in D minor (the whole thing) and the first movement of his Concerto for 2 Violins in A minor. Robin and another girl played first violin for the Concerto Grosso, and Robin played first violin for the A minor for 2 violins. It's just amazing to contrast the little 7-year-old Robin squeaking out "Twinkle, Twinkle" with this accomplished 18-year-old playing real classical repertoire, and playing it well. I hope we can find her a teacher near her college for next year.
My husband has been working so hard, Robin and I decided play lawn fairies and mow the lawn for him. Yeesh. I haven't mowed in probably 30 years, and I'd forgotten how heavy the darn lawnmower is. Thank goodness Robin did two-thirds of it. (I'm supposed to keep the landscaping nice; he does the mowing and clipping bushes. He's kept his part of the bargain over the years. Me, not so much. I don't have a green thumb, and I tend to wilt in the heat and humidity.)
The weather this week has been lovely and cool, albeit a bit wet. I'm trying to get out for a walk every day to enjoy the coolness, knowing that the aforementioned heat and humidity are on their way. My husband plans to grill tomorrow, but other than that, we don't really have any Memorial Day plans. We used to watch PBS's Memorial Day Concert, but we gave up cable TV last month, so unless they stream it online, we'll have to skip it this year. (So far, this is the first time I've missed having cable since we gave it up. Mostly, we do very well with Netflix and Hulu — and I don't watch much TV anyway. I'd rather read!)
I wish you all a wonderful Memorial Day and a good week to come!
The past week on the blog:
The coming week:
Top Ten Tuesday: Freebie surprise topic — I'm still trying to decide!
Saturday: News & Notes
Reviews: TBD
Challenges:
I joined the Clean Sweep ARC Challenge for May, hosted by Kimba the Caffeinated Book Reviewer and Kimberly at The Windy Pages. This past week, I did manage to finish several review copies, but haven't yet written the reviews.
I'm also participating in the NetGalley Challenge sponsored by Red House Books, which runs all year. I'll post the titles for this challenge at the beginning of June.
New arrivals:
Lots of lovely new books for me to review this week, and a few good ones from the library as well!

For Review:
Thanks to HarperCollins and Edelweiss for giving me an e-ARC of Magic Marks the Spot, the first in what looks like a rollicking MG fantasy series about a girl who wants to be a pirate. Sounds like a lot of fun — I can't wait to read it!
Many thanks to Harlequin for approving these four. I finished
Sea Glass Island
already
;
I've enjoyed all the books in this series about three sisters (reviews are coming!) The others look good too: light reading, perfect for summer!
I also downloaded Vera Nazarian's Cobweb Bride and Sheila Connolly's Relatively Dead via NetGalley's Read Now program, courtesy of publishers Norilana Books and Beyond the Page (respectively.)
Finally, Gallery is letting me read Banquet of Lies, by Michelle Diener. There's no cover available yet, but it's a historical mystery/spy story set in Great Britain, with an upstairs-downstairs flavor.
From the library: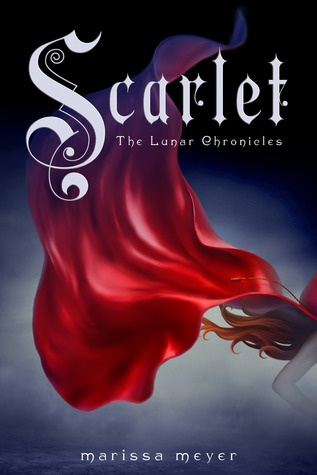 I want to reread Tuesdays at the Castle before reading Wednesdays in the Tower, which I can hardly wait to start!
I borrowed Scarlet earlier this spring, but had to return it before I had time to read it. Robin read it and liked it, so at least its time in our house wasn't wasted. This time around (ever the optimist!) I hope to squeeze it in before it has to go back — despite all those lovely ARCs with deadlines breathing down my neck.
What's new in your TBR pile this week?
Related Posts